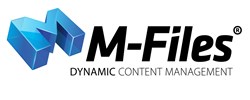 2013 was a banner year for M-Files, and our rapid growth is testimony to how more and more businesses see M-Files as a superior alternative to the complex and cumbersome solutions offered by traditional ECM providers.
Tampere, Finland (PRWEB UK) 19 February 2014
M-Files Corporation, the developer of M-Files dynamic content management solutions that simplify and improve how businesses manage, secure and share information, today announced 2013 revenue, sales, user and channel growth figures that highlight the company's increasing market traction and rapid acquisition of new customers.
M-Files revenue increased more than 40 percent in 2013, culminating in a robust six-year growth rate of over 1,100 percent. The number of M-Files licenses sold in 2013 increased more than 45 percent over 2012. In addition, M-Files experienced an even greater surge in the adoption of its cloud-based enterprise content management (ECM) solutions, with over a 50 percent increase in cloud customers and more than a 60 percent increase in cloud-based revenue in 2013 over 2012.
The M-Files reseller channel was also a key driver of worldwide growth in 2013, with total revenue generated through the company's partner network growing by nearly 80 percent compared to 2012. M-Files is also rapidly adding new channel partners, with currently more than 300 partners operating in 74 countries.
"2013 was a banner year for M-Files, and our rapid growth is testimony to how more and more businesses see M-Files as a superior alternative to the complex and cumbersome solutions offered by traditional ECM providers," said Jim Geary, executive chairman at M-Files Corporation. "Enterprises today often use a collection of business systems and network folders for storing and managing their documents, and this chaotic environment makes it nearly impossible to find vital business information. In a nutshell, we make it easier and faster for business users to find the 'right' content. M-Files simply works better, and that's why we're winning."
M-Files Awards, Recognition and Milestones During 2013
M-Files achieved several significant milestones and received a number of prestigious accolades and awards during 2013, including:
Gartner's 2013 Magic Quadrant for Enterprise Content Management (ECM): For the second consecutive year, M-Files has been recognized in Gartner's Magic Quadrant for enterprise content management, which further validates the company's position as one of the leading ECM vendors in the world. M-Files dynamic content management approach to ECM was evaluated based on completeness of vision and ability to execute, which led to its recognition as one of the 23 global leaders included in this prestigious analyst report.
The Forrester WaveTM: Enterprise Content Management, Q3 2013: M-Files was named as one of the influential enterprise content management providers in Forrester Research's 2013 ECM Wave report. According to Forrester Research, "M-Files offers an entirely fresh approach to [enterprise content management] ECM, with a metadata- and search-driven UI rather than the traditional folder and subfolder navigation scheme. M-Files' metadata-driven architecture provides for flexible, folderless navigation, giving end users a versatile approach for grouping documents. Wave newcomer M-Files provides one of the few true hybrid offerings. M-Files metadata design has enabled it to lead the way with cloud-based computing, providing complete functionality and transparency between on-premises and cloud-based implementations."
M-Files Secures $7.7M Series A Funding: M-Files closed a $7.7 million round of Series A funding in 2013, which was led by DFJ Esprit, with participation from Finnish Industry Investment.
M-Files Receives ISO 9001:2008 Certification: M-Files received ISO 9001:2008 certification for the design, development, delivery and support of its information management software and related services.
Deloitte Technology Fast 500 EMEA: M-Files ranked number 402nd on the Deloitte Technology Fast 500 EMEA 2013, and 22nd in the Finland Deloitte Technology Fast 50.
M-Files Wins Employer of the Year Competition: M-Files was recognized as the Employer of the Year in 2013 by the Tammerkoski Chamber in Finland.
M-Files Named by KMWorld Magazine as One of the 100 Companies that Matter for 2013: M-Files was named to KMWorld's list of 100 Companies that Matter in Knowledge Management in 2013.
New M-Files Solutions and Enhancements in 2013
M-Files 10.0: M-Files 10.0 features major enhancements, including a new user interface (UI) that provides quick and intuitive access to content on PCs, tablets and smartphones.
M-Files 10.0 Mobile Apps: M-Files 10.0 mobile apps are available for iPhone, iPad, Android and Windows Phone devices and feature support for advanced capabilities such as electronic signing, which enables organizations to implement mobile-friendly workflow and approval processes that comply with regulatory requirements, such as FDA 21 CFR Part 11.
About M-Files Corporation
M-Files dynamic content management solutions are disrupting the ECM market by eliminating information silos and providing quick and easy access to the right content from any core business system and device. M-Files achieves higher levels of user adoption resulting in faster ROI with a uniquely intuitive approach to ECM that is based on managing information by "what" it is versus "where" it's stored. With flexible on-premise, cloud and hybrid deployment options, M-Files places the power of ECM in the hands of the business user and reduces demands on IT by enabling those closest to the business need to access and control content based on their requirements. Thousands of organizations in over 100 countries use the M-Files dynamic content management system as a single platform for managing front office and back office business operations, which improves productivity and quality while ensuring compliance with industry regulations and standards, including companies such as SAS, Elekta and EADS. For more information, visit http://www.m-files.com.
M-Files is a registered trademark of M-Files Corporation. All other registered trademarks belong to their respective owners.