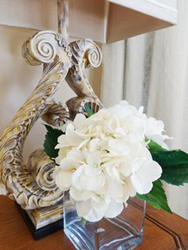 "It's just another way for us to be accessible and to be visible within the design community. We want to provide the best possible service to our clients and visitors, and be the "go to" company for inspiration and interior styling services."
Birmingham, Alabama (PRWEB) March 04, 2014
With the unveiling of its E Design Service on February 6, 2014, Birmingham Alabama based White Birch Interiors http://www.whitebirchinteriors.com announces its market affiliations and launches its online Design Boutique. "We are now affiliated with several interior design and retail merchants, both domestic and international. This gives us even greater flexibility to be able to offer to our clients the latest design trends in furniture, art and accessories, from both prominent and emerging interior designers and retailers. It's the perfect complement to our E Design Service. Clients can visit our Design Boutique and shop the perfect pieces for their design," says Principal, Lisa Bond.
It's also a huge convenience factor for clients who don't necessarily want to spend hours on the internet searching for a unique item and not knowing where to look. "Our focus is primarily on the client experience, and the convenience this brings. They can shop from the comfort of their home at any time, bookmark a page, and come back to it later. Most of our merchants have extended bookmarks specifically for shopping convenience. It can be a real time saver," notes Lisa.
While it brings convenience to the shopping experience, it also helps clients visualize and decide what style they are looking for their home or for a particular room. "This is extremely helpful if we are creating a new room design. Often times it can be hard for clients to articulate a particular style. If the stylist has one vision and the client has another, it can be a challenge to make sure everyone is on the same page. But with our Design Boutique, they can let us know which merchant and which items they have an interest in for their personal tastes. We can design a room around any item they choose; or, we can design a room around any item they already own or want to incorporate into their design. The Design Boutique will also be expanding its merchants and continually changing to meet trends, demands, and quality so there will never be a one style fits all," says Lisa.
The Design Boutique isn't limited to clients only. Any visitor to the site can "Look. Shop. Covet" an item for their home, purchase a gift, or get ideas for that one of a kind piece to finish their room. They can also receive special discounts through White Birch Interiors' website from several merchants as well. "It's just another way for us to be accessible and to be visible within the design community. We want to provide the best possible service to our clients and visitors, and be the "go to" company for inspiration and interior styling services," Lisa states. For more information, please visit http://www.whitebirchinteriors.com and visit the Design Boutique or contact 855-WHT-BRCH.