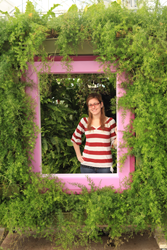 Chicago, IL (PRWEB) March 07, 2014
Grand Rapids, MI | Lansing, MI | Kalamazoo, MI | Visitors to several garden shows in the Great Lakes Region will escape the cold to walls of lush green plants. The living wall displays, courtesy of LiveWall, LLC of Spring Lake, Mich., are currently featured at the following home shows:
Grand Rapids Home and Garden Show – Now open until March 9 at Devos Place, admission Adult – $10 | Child (6-14) – $4
Kalamazoo Home Expo and Garden Show – Now open until March 8 at the Kalamazoo County Expo Center, admission $10 | 12 & Under – Free
Lansing Home and Garden Show – March 13-16, at the MSU Pavilion, admission Adult – $9 | Children (6-14) – $4
Chicago Flower & Garden Show – March 15-23 at Navy Pier, admission Adult – $15-$19 | Children (4-12) – $5
Several of the vertical gardens will feature a picture frame cut out for photo ops. Visitors that share their photos on Instagram or Twitter using the hashtag #livewall will be featured in a video montage published by LiveWall, LLC in late March.
The LiveWall System was used in a 2013 ArtPrize entry voted by the public into the Top 25 of the world's largest art prize, held annually in Grand Rapids, Mich. The piece, Back to Eden by artist Dave MacKenzie, was a 130' long x 11' high living canvas containing over 2500 plants. MacKenzie will reenter ArtPrize this fall with a new living work of art outside the B.O.B.
LiveWall is also on several other noteworthy structures, including 800 square feet of green walls on the south and west walls of Grand Rapids' new Downtown Market. Last fall, John Ball Zoo installed a LiveWall on the rooftop of the chimpanzee house. In Chicago, the system is included as a hallmark of sustainable design at the entrance of the Chicago Center for Green Technology.
The West-Michigan developed and manufactured living wall system was recently selected for the tallest living wall in Los Angeles, which will be installed on the tower of the Downtown PacMutual Complex.
About Livewall
Based in Spring Lake, Michigan, LiveWall®, LLC (http://livewall.com) is the top horticultural science company in the green wall industry. Exceptional in design and function, the LiveWall System is developed and manufactured in West Michigan and offers the most effective horticultural solution for vegetated walls.