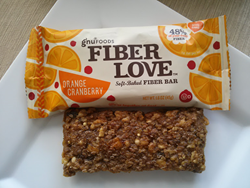 'FiberLove bars are the only nutrition bars that I recommend to my patients... because of their high fiber content and unprocessed ingredients, as well as their blend of soluble and insoluble fiber from natural, beneficial sources.' - Dr. Jacqueline Mayo
New York, NY (PRWEB) March 13, 2014
Is all fiber created equal? No. Eating the wrong fiber bar can be self-sabotage, and the leading fiber bar brands don't deliver on the promise of fiber. Fortunately, FiberLove has the backs of fiber eaters everywhere.
It's well known that fiber is an important part of a healthy diet. Yet, few people know how intensely beneficial fiber can be. As March is National Nutrition Month, now is a great time to learn about fiber.
A 2011 study published in the Archives of Internal Medicine determined that a high-fiber diet lowers overall risk of early death by 22%, and that the life-prolonging health benefits of fiber are most strongly associated with the fiber found in unprocessed whole grains, rather than in processed fiber.
Many fiber bars that line grocery shelves are formulated with processed fiber that is stripped of its most beneficial qualities, and are loaded with added sugar and artificial sweeteners. These conventional fiber bars don't even try to make health claims on their packaging. The "roughage" – or insoluble fiber – that Grandma always knew was so important is nowhere to be seen. Instead, Grandma might call these bars "fiber fakers."
There are two types of fiber: soluble fiber and insoluble fiber. Soluble fiber dissolves in water, while insoluble fiber does not. Fruits and oats primarily contain soluble fiber. Whole grains and vegetables primarily provide insoluble fiber.
"The soluble fiber forms a gel-like matrix on which the insoluble fiber sits. As a team they scrub the gut like a sponge, speed the transit of digested food on its way out of the gut, and help to slow down the absorption of fats and sugar into the bloodstream," said New York Presbyterian Hospital/Cornell attending physician Dr. Jacqueline Mayo.
FiberLove bars can make health claims associated with a high fiber diet because only FiberLove bars use a blend of insoluble and soluble fiber that includes a proprietary mix of whole grains and seeds, and prebiotic inulin. FiberLove's whole grains and seeds mix serves as the main ingredient in each FiberLove bar, and is visible as soon as a FiberLove wrapper is unpeeled.
"FiberLove bars are the only nutrition bars that I recommend to my patients – in fact one of only a very few packaged foods of any kind – because of their high fiber content and unprocessed ingredients, as well as their blend of soluble and insoluble fiber from natural, beneficial sources," continued Dr. Mayo.
The ingredients in FiberLove bars are also Non-GMO Project Verified, kosher and soy-free.
Read more about how FiberLove bars can help reduce the risk of heart disease.
About FiberLove
FiberLove is a company of fiber experts and enthusiasts intent on redefining the fiber experience. FiberLove debuted in 2013 with a commitment to being THE feel-good fiber company.
Each flavorful FiberLove bar is made with a special, all-natural high fiber blend that provides 12 grams of fiber in 130-160 calories. FiberLove bars are Non-GMO Project Verified, soy-free and kosher. FiberLove bars are available in eight delicious, soft-baked flavors, for purchase through FiberLoveBar.com/shop, as well as at Whole Foods, The Vitamin Shoppe, and select regional and local grocers.