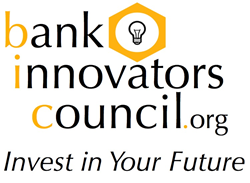 Seattle, Washington (PRWEB) March 17, 2014
Released on Tuesday, March 4th, Jay Palter's Social Advisory listed "the Top 250 financial services online influencers that you need to know". Bank Innovators Council (BIC) Co-Founder, JP Nicols was listed in the top 10% of the prestigious list at #21. Mr. Nicols was also listed in the "Top 5 Listeners in Financial Services" at #4.
A membership organization designed to support, promote and facilitate innovation within and amongst its member banks, the BIC has developed partnerships with industry leaders BankersHub, Innovation Agency, NextBank, Finovate and Yodlee to provide the 24/7 ecosystem for bank innovators. The BIC held their first Innovators Lab Day in London on February 13th and is hosting their second in San Jose on April 28th.
"JP and the Bank Innovators Council are doing great things to change the conversation and challenge the status quo in the Financial Services Industry. We are proud to be a partner with the BIC and to be associated with JP and his organization," commented Melanie Flanigan, Senior Director, Marketing at Yodlee, a Gold Sponsor of the Bank Innovators Council.
In addition to co-founding the BIC, Mr. Nicols is CEO of Clientific and on the Advisory Board for NextBank USA. Five NextBank USA advisory board members joined Mr. Nicols in the top 10% of the Online Influencers list.
About the Bank Innovators Council
With members in 34 states and 29 countries on 6 continents, the Bank Innovators Council provides opportunities for members to pool their resources to develop and test new ideas outside of the day-to-day demands of their existing businesses, in ways they could not do alone. Register for the second BIC Lab Day at http://www.bankinnovatorscouncil.org/silicon-valley.
About JP Nicols
A leading voice for leadership and innovation for the future of financial services, JP combines 20+ years of experience with a fresh perspective on combining high-tech with high-touch. His work has been featured in some of the industry's top publications, including American Banker, BAI Banking Strategies and Investment News. He is the founder and CEO of Clientific, a partner at Bank Solutions Group, and the co-founder of the Bank Innovators Council.