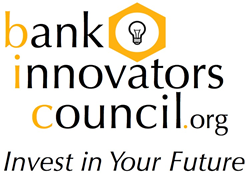 Seattle, Washington (PRWEB) March 19, 2014
The Bank Innovators Council ("BIC") today announced their second BIC "Innovators Lab Day" will be held on April 28, 2014, immediately prior to FinovateSpring. Taking place at The Tech Museum in San Jose, the Lab Day will be similar in structure to the BIC's first Lab Day held in London on February 13th.
"The feedback we received following London was phenomenal and every participant was engaged in different groups working on issues facing various customer segments," noted BIC co-founder JP Nicols, who was recently recognized as the #21 online influencer in the Financial Services industry.
Along with FinovateSpring, the BIC has partnered with BankersHub, Innovation Agency, NextBank and Yodlee to support, promote and facilitate innovation within and amongst banks. While attendees will still realize maximum value from the Lab Day without attending FinovateSpring, attendees are encouraged to attend the premier FinTech showcase. Attendees of both sessions will receive a 20% discount off of their FinovateSpring registration fee, which will offset the registration fee for the Innovators Lab Day.
BIC Lab Day registration is available at http://www.bankinnovatorscouncil.org/silicon-valley/.
About the Bank Innovators Council
With members in 34 states and 29 countries on 6 continents, the Bank Innovators Council provides opportunities for members to pool their resources to develop and test new ideas outside of the day-to-day demands of their existing businesses, in ways they could not do alone.
About Finovate
Finovate is the leading demo-based conference series for new innovations from startups and established companies in the fields of banking and financial technology. Held each year in London, Silicon Valley, New York and Singapore, the event series offers an insight-packed glimpse of the future of money via a fast-paced, intimate, and unique format. For more information on the upcoming FinovateSpring event in San Jose on April 29-30, 2014 or to view videos of previous demos, please visit http://www.finovate.com/spring2014.