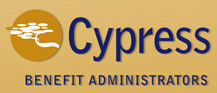 We are really proud of this achievement as it directly correlates to our ongoing commitment to exceptional customer service.
Appleton, WI (PRWEB) March 27, 2014
Specializing in employee benefit plans for employer-clients across the United States, Cypress Benefit Administrators' headquarters in Appleton recently received accreditation from the Better Business Bureau (BBB) of Wisconsin, Inc., and achieved an A+ rating from the organization.
Cypress applied for – and earned – accreditation by showing a history of dependability and responsiveness in terms of customer service and meeting the eight Standards for Trust set forth by the BBB.
These Standards include everything from building trust and advertising honestly to being transparent, safeguarding privacy and embodying integrity.
In addition to the accreditation, Cypress was also awarded an A+ rating by the BBB of Wisconsin.
Ratings are determined by seven overall grading elements which relate to areas such as complaint history, licensing and government actions and advertising issues. There are also 16 individual elements that factor into grading points, with complaint volume and resolution, advertising review and mediation/arbitration among them.
"We are really proud of this achievement as it directly correlates to our ongoing commitment to exceptional customer service," said Tom Doney, president and CEO of Cypress.
Doney explained that the BBB accreditation and A+ rating come on the heels of three 2013 awards which also recognize the TPA's quality performance.
Cypress was named a Business of the Year by the Fox Cities Chamber of Commerce & Industry in June and was also the recipient of a Gold Well Workplace Award from the Wellness Council of America. The employee benefits administrator was also designated as one of the Top 100 Insurance Companies for growth in the U.S. as part of Inc. magazine's 2013 500|5000 list.
"It's been an exciting year for Cypress, and it's great to see our team's hard work and dedication being recognized," Doney said.
A privately held company headquartered in Appleton, Wis., Cypress Benefit Administrators has been pioneering the way toward cost containment in self-funded health benefits since 2000. The third party administrator (TPA) is the country's first to bring claims administration, consumer driven health plans and proven cost control measures together into one package for companies ranging from 50 employees to thousands of employees. It serves employer-clients across the U.S. with additional locations in Portland and Salem, Ore., Omaha, Neb. and Colorado Springs, Col. For more information on Cypress and its customized employee benefits, visit http://www.cypressbenefit.com.