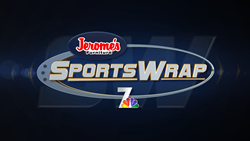 Many of these sporting events are watched by people on a Jerome's sofa or kicked back in one of our recliners.
San Diego, CA (PRWEB) April 24, 2014
Jerome's Furniture commits to the local community through sports involvement. Jim Laslavic's Sunday night show on NBC 7 has just been renamed the Jerome's Furniture SportsWrap.
"NBC 7 San Diego is proud of our continued collaboration with Jerome's Furniture. With 60 years of service to the San Diego market, Jerome's Furniture is the perfect partner to present 'Jerome's Furniture SportsWrap' every Sunday night on NBC 7," said Brandin Stewart, VP of Sales, NBC 7 San Diego.
Jerome's also recently announced they are now the Official Furniture Store of the San Diego Padres, and opened a Luxury Viewing Box in Petco Park called the Best Seat in the House. Jerome's will also be sponsoring a Bloopers reel during selected Padres games. Always a fan favorite, this provides a nice tie-in with Jerry's Blooper Store, the treasure hunting clearance center stores that handle Jerome's overstocks.
"Jerome's realizes that a huge segment of the furniture buying market loves sports." Jerry Navarra, namesake and founder of the nine store chain, says, "We've been in business in San Diego for 60 years. We thought this commitment to sports would be a great way to celebrate with the community. We feel it's a good place for us to be – after all, many of these sporting events are being watched by people on a Jerome's sofa or kicked back in a power recliner."
The new Jerome's SportsWrap with Jim Laslavic is on Sundays at 11:30 p.m. Tune in to see the highs and lows of the weekend in sports. "Laz", the host of the new Jerome's sports show, is a former Charger's linebacker himself and now Sports Director at NBC 7. Laz has 27 years of sports reporting and anchoring experience here in San Diego.