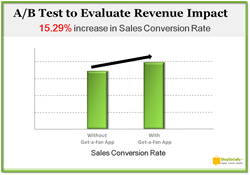 "A/B testing is an essential element of any ROI-focused social media strategy and retailers should use it to attribute business impact of their social commerce efforts." - Jai Rawat, CEO of ShopSocially
Mountain View, California (PRWEB) April 25, 2014
ShopSocially today announced that e-commerce retailers employing its onsite social commerce platform are successfully using the built-in A/B Test framework to measure the precise impact of social on their business. Launched in December 2013, ShopSocially's A/B Test framework is helping retailers to evaluate the exact contribution of social media strategies in terms of increase in sales conversion rate and resultant revenue uplift. Leading firearms manufacturer Beretta reported an increase of 15.29% in sales conversion rate whereas popular private-sales site for wine invino registered 22.22% uplift in sales conversion rate using ShopSocially's A/B Test framework.
"Tools like the A/B Test Framework empower retailers to measure and ensure that their social marketing budgets are well-spent and generating positive ROI," commented Jai Rawat, CEO of ShopSocially. "A/B testing is an essential element of any ROI-focused social media strategy and retailers should use it to attribute business impact of their social commerce efforts."
ShopSocially customers are using the A/B Test framework primarily in two scenarios – (i) assessing the impact of presence of onsite social commerce apps, and (ii) determining the best performing social media campaign. Through the A/B Test feature, retailers can split the traffic such that one part interacts with the app and other doesn't, keeping all other parameters unchanged. This allows retailers to ascertain conclusively how the app is influencing sales conversion and revenue generation on their e-commerce site. Retailers can also use the traffic split to show two different versions of the same campaigns and observe which has greater returns. These versions can differ in terms of incentive offered, creative, ad-copy or layout.
Leading firearms manufacturer Beretta used A/B testing feature to measure the impact of onsite fan acquisition tool Get-a-Fan on its website. Shoppers who were shown the app converted at a 15.29% higher rate than those who weren't shown the app.
Similarly, popular private-sales site for wines invino employed A/B testing to quantify the positive uplift accrued by showcasing social testimonials on their e-commerce website using ShopSocially's Product Stories app. These testimonials acted as social proof and led to an impressive 22.22% increase in sales conversion rate.
Purchase intent of customers is higher when they are on e-commerce website as compared to when they are browsing social networks. ShopSocially platform capitalizes on this purchase intent through its onsite social commerce modules and makes the entire purchase cycle on an e-commerce site more social. Using this approach, retailers now apply social media influence in context of commerce driving a marked increase in sales conversion rate and a positive uplift in social ROI.
About ShopSocially:
ShopSocially is a SaaS social commerce platform driving millions of dollars in incremental revenue, new customer acquisition, improved SEO rank, growth in Facebook fan base, and word-of-mouth branding for 100s of top brands.
ShopSocially platform enables a suite of onsite social apps for ecommerce sites. Examples of these apps include purchase sharing, fan acquisition, shopping community, social SEO, social photo testimonials on mobile and more.
ShopSocially has won several awards and has also been featured by Facebook in a Social Commerce case study. Launched in Oct 2010, ShopSocially is a privately held company in Mountain View, CA. For contact information, please visit http://shopsocially.com/platform/request-a-demo.html.