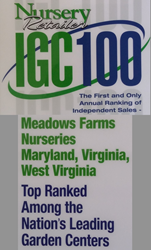 We are cautiously optimistic that with the gradual recovery of the economy, we will see the green industry continue on an upward path." -Jay Meadows, President
(PRWEB) May 22, 2014
Independent Garden Centers of America, the only trade association in the United States focused fully on the independent retail garden center, has released their 2014 Top 100 Independent Garden Centers list, which is based on 2013 revenues. Meadows Farms Nurseries placed in the top five with a 2013 sales volume of $48,100,000. "We are cautiously optimistic that with the gradual recovery of the economy, we will see the green industry continue on an upward path," says Jay Meadows, President of Meadows Farms.
There are 35 states represented in this year's list, with combined revenues of over one billion dollars in 2013. More than 57% of these independent garden centers saw gains this year, up by over 10% from the previous year. Only independent garden centers were considered for this list- large box stores/mass merchandisers were not included. Each of the Top 100 Independent Garden Centers will receive a personalized plaque honoring their achievement. Meadows Farms Nurseries was the only garden center in the Washington DC area in the top 25.
The Meadows Farms niche is geared to the value-minded consumer, priced well below the local independent garden centers. Their appreciation for each and every customer is demonstrated in the requirement that each be thanked four times- by the personnel involved as well as driving past a 'Thank-You' sign as they leave the nursery. "A renewed focus on younger patrons will encourage a strong transition for garden centers into the next generation," says Bobby Lewis, Vice President of Marketing.
About Meadows Farms Inc.
Meadows Farms Inc., is one of the largest independently owned nursery and garden centers in the country, and was named the #1 Independent Garden Center by Garden Center Magazine. They have 22 retail locations employing more than 750 employees and a landscape facility housing 39 designers and sending out more than 70 crews a day. A grounds maintenance division and cattle company also fall under the Meadows Farms umbrella. For more information, visit http://www.meadowsfarms.com.