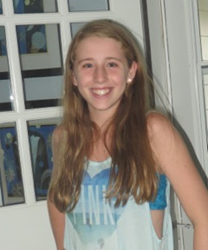 We're excited to see Sydney on the court at Madison Square Garden and delighted we could support Lyme Research Alliance.
Greenwich, CT (PRWEB) May 14, 2014
Thirteen-year-old Sydney Herzog will have the experience of a lifetime this Saturday when she has the honor of serving as a ball girl for the Liberty, New York's WNBA team, when they play the Chicago Sky at Madison Square Garden.
Sydney, the daughter of Sylvia and Gary Herzog of Chappaqua, NY, has been playing basketball for five years. She won the privilege of being a ball girl after her parents, supporting Lyme Research Alliance's (LRA) research agenda, became the lucky recipients of a NY Liberty basketball package offered as an auction item at LRA's "Time for Lyme" fundraising Gala last month in Greenwich, CT.
In addition to giving their basketball-loving daughter the opportunity to be the ball girl, the Herzog family will also attend an informal post-game Q&A with the Chicago Sky's Elena Delle Donne, the 2013 WNBA Rookie of the Year. Delle Donne, who has suffered from Lyme since 2008, was honored by LRA at its Gala for stepping forward as a role model for young people struggling with Lyme disease.
"We've never been to a Liberty game," said Sylvia Herzog, who like most of her family of five had Lyme but caught it early. "We're very excited to see Sydney on the court at Madison Square Garden, and we're delighted we could support Lyme Research Alliance."
Sydney, understandably, is mostly focused on her upcoming experience. The Seven Bridges Middle School eighth-grader who plays forward with the New Castle Aftershock, and will try out next winter for the Horace Greeley High School basketball team, says she's "not very, a little" nervous about being the ball girl for the Liberty's home opener.
"I think it will be really fun, really cool, to be getting the ball and being on the court with all the professional players at Madison Square Garden," she said.
If you would like to see Sydney in action along with the Liberty and Sky, you can buy tickets for the 8 p.m. game through a special reduced-rate "LRA Night With the Liberty" offer at http://www.lymeresearchalliance.org/NY_Liberty.htm. You will also receive admission to the post-game Q&A to be held on-site at the Garden.
___________________________________________________________________________________
Lyme Research Alliance, formerly Time for Lyme, is a Connecticut-based national non-profit that funds cutting-edge research into Lyme and other tick-borne diseases. For more information, go to http://www.LymeResearchAlliance.org.