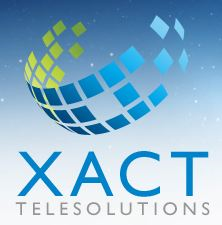 Unity, ME (PRWEB) May 20, 2014
XACT TeleSolutions, a customer service solution center, announced that a large non-profit company in the healthcare industry recently renewed its commitment to XACT for another 3-year term. XACT's team of customer support specialists will continue to provide a front line of support for all aspects of the non-profit's customer service and sales process.
Before renewing the contract, the client and its customers benefitted from XACT's telephone and email solutions. With the new 3-year contract, XACT will continue to offer the services it did in the past, as well as the opportunity for additional support. With new services being offered by XACT such as web chat assistance, the non-profit company and other clients of XACT will be able to satisfy their customers' needs across many different platforms: landline, desktop, mobile, and more.
This new commitment between XACT and the non-profit company comes shortly after XACT proved itself as a leader in non-profit sector. Some of the non-profits XACT has worked with in the past include Operation Stephens Touch, the National Kidney Foundation, and other non-profits involved in healthcare.
Given XACT's updated service offering and the new 3-year contract, XACT TeleSolutions is strengthening its reputation as a call center service provider that non-profits in the healthcare industry can trust. Working remotely on behalf of the non-profit, XACT agents continue to function seamlessly for the non-profit and the new 3-year contract confirms this.
To learn more about the call center and customer support services XACT TeleSolutions offers to non-profit companies in the healthcare industry, visit MyXACT.com.
About XACT TeleSolutions:
XACT TeleSolutions is a state-of-the-art call service center that leverages technology along with direct internet integration to provide support to clients. Their mission is to be the leading provider of customized and integrated telecommunications services. Furthermore, XACT TeleSolutions works with businesses of all sizes, from Fortune 100 retailers to B2B organizations looking to enhance communications and support to their clients.