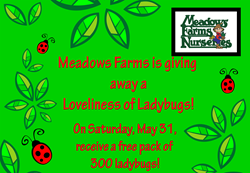 We felt that this giveaway would be a good teaching experience, and a nice way to give something back to our customers. - Bobby Lewis
(PRWEB) June 04, 2014
Meadows Farms Nurseries purchased over 350,000 ladybugs to give away to customers on Saturday, May 31, 2014. Customers received a pack of (300) ladybugs to release in their gardens. "We want to encourage people to consider alternate forms of pest control, and educate the public on the advantages of beneficial bugs," says Bobby Lewis, Vice President at Meadows Farms.
Ladybugs, or 'lady beetles,' are in the beetle family. Ladybugs are beneficial insects- their main food sources are aphids, mealybugs, scale insects, and mites- "harmful insects." Releasing ladybugs into a garden is a form of organic pest control. A ladybug will eat up to 5,000 aphids in its lifetime (the full life cycle is typically 4-6 weeks). A group of ladybugs is referred to as a "loveliness."
"Ladybugs are great for all ages, but are an excellent way to generate interest from a younger generation in the outdoors," says Mr. Lewis. "We felt that this giveaway would be a good teaching experience, and a nice way to give something back to our customers."
It is best to release ladybugs right before dawn, preferably when there is dew on the plants, so the ladybugs have a chance to rehydrate. The second best time is just after sunset- it's cooler, and the waning light allows them to settle into their new environment before the day begins. Ladybugs can be stored in the refrigerator (but not the freezer) for up to 3 weeks, as they won't fly below 55° Fahrenheit, and live off stored body fat until their release.
About Meadows Farms Inc.
Meadows Farms Inc., is one of the largest independently owned nursery and garden centers in the country, and was named the #1 Independent Garden Center by Garden Center Magazine. They have 22 retail locations employing more than 750 employees and a landscape facility housing 39 designers and sending out more than 70 crews a day. A grounds maintenance division and cattle company also fall under the Meadows Farms umbrella. For more information, visit http://www.meadowsfarms.com.