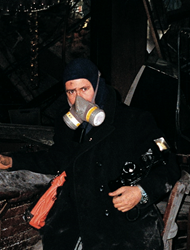 Our Charities Have All Stated They Are Quite Pleased With Our Fundraising Efforts ~ Carole Barnes, Ground Zero Museum Workshop
New York, New York (PRWEB) June 26, 2014
Only two weeks after being presented with accurate donation numbers in a press release indicating that the New York Post reported gross miscalculations about the Ground Zero Museum Workshop's charitable donations, Post reporter Susan Edelman ran what the Museum feels is another misleading story - this time on Father's Day, sacred in the 9/11 community - on the Museum and its founder. Says Ground Zero Museum Workshop's Publicist Carole Barnes, "To run a misleading story like this on such a special day of remembrance within the 9/11 community is insensitive to the Museum, to its founder Gary Suson and to the 9/11 families." The June 15, 2014 article in the New York Post was entitled, "Another 9/11 Museum Gift Shop Competes for Cash," and was released just days after the Ground Zero Museum Workshop issued a May 29th press release in response to a story Edelman ran on April 28, 2013 ('9/11 Kin Rip Fotog's Blood $$ Display') that presented donation percentages the Museum feels it has shown to be inaccurate.
Says Suson, "I am getting calls from across the country from former FDNY firefighters and 9/11 families who lost loved ones at the World Trade Center as well as from charities who I am close with claiming that they are being contacted by the New York Post in regard to these donation percentages. These distressed families have zero to say to the Post and are asking to be left alone. They are quite pleased with our fundraising, which I must add was done out of personal choice, not an 'obligation'. Our Museum is the charity, lest we forget. Simply put, both myself and the 9/11 families the museum supports do not wish to be further contacted by the New York Post. Enough is enough. While I do support freedom of the press, I do not support the printing of material of this nature."
Says Suson, "As already stated in the May 29th press release - the Ground Zero Museum Workshop gave away 28.5% of its remaining cash in 2011 to charities after paying all its expenses and overhead as opposed to the fictional 3% the New York Post reports. However, these generous donations were done not out of obligation, but out of kindness. 501c3 Nonprofit museums are not required by law to donate to other nonprofit charities. Our primary responsibility is to be a museum for education and funds received support that mission and goal. If we have excess cash flow any given month, we choose to give away money to worthy charities. The FDNY put me in Ground Zero and thus my loyalty is to FDNY charities. This is why our museum has such a loyal following not to mention the support of numerous 9/11 families."
In its latest report, the Ground Zero Museum Workshop feels the New York Post falsely stated the charities in question "are not named." Says Suson, "Well, if they are not named, as they wrote, then how is it The New York Post is able to contact them? Their reporter is very aware who the charities are and not one has a bad word to say. There is no story here and never was." Carole Barnes states, "Ms. Edelman recently 'broke' a story about the 9/11 Memorial Museum's on-site and online gift shop, which supports its educational mission through gift shop sales. Our on-site 'Gift Shop' - as the Post calls it - is a table measuring only 4 feet long by 2 feet wide carrying just books and posters. Our table is hardly newsworthy."
Carole Barnes also states, "The New York Post continues to use words like 'Pittance' - 'Paltry' and other demeaning words to describe a Museum and its donations - one that has earned awards from the highest rated travel sites in the world, praise from 9/11 and FDNY families and the respect of thousands world-wide. They have tried numerous times with their paper - in 2005, 2006, 2009, 2013 and now again in 2014 - to discredit the Museum but have been unsuccessful. That's because we operate a dignified museum with an experience unlike no other in the world and whenever possible, donate cash to FDNY and 9/11 families. In our opinion, that's the real story they should write about. If the New York Post wishes to continue running these misleading and negatively themed stories, that's their choice, however, In our opinion there are more important things in the world to report on."
Ground Zero Museum Workshop has openly listed all of its recipients and donations for many years on Twitter (911Museum), including the FDNY Foundation - the FDNY Firefighter Joe Graffagnino Fund - the FDNY Firefighter Ralph Geidel Cancer Fund - the Brotherhood Foundation and more. "We are an open book," says Carole Barnes. "The New York Post is actually thwarting the Museum's ability to help 9/11 charities. It's counterproductive and damaging."
The Post called into question yet again on June 15th Mr. Suson's 'Official Photographer at Ground Zero' title - as they have in every article written on him. Retired FDNY Firefighter and former FDNY Fire Union Manhattan Trustee Rudy Sanfilippo - who brought Suson into Ground Zero to officially document the 'Recovery' for the Uniformed Firefighters Association states, "I have read numerous times where the New York Post reports that Gary Suson 'self-anointed' himself the Official Photographer at Ground Zero. First off, he didn't 'appoint nor anoint' himself anything. We invited Gary Suson in and he was given that title just before we gave him the go-ahead to take his collection of images to the media when the Recovery ended. He had the most exclusive access of any photographer in the world at Ground Zero - and that's because he shot for the Fire Union. Both union Presidents signed off on it and gave him a letter for the press. You can't rewrite history." Gary Suson discovered and photographed the "Ghost Train" deep below Ground Zero, the last subway car to pull into WTC on 9/11. Regarding charitable donations, Sanfilippo states, "Gary Suson has exceeded my expectations in terms of 'giving back' with revenues from his image collection." Carole Barnes states, "Our charities have stated they are quite pleased with our fundraising efforts."
Says Museum founder and Official Ground Zero Photographer Gary Suson - "I understand that 9/11 news stories - even if they are false and misleading - are a big seller for the New York Post. However, it's the same damaging information recycled over and over. For nine long years, Ground Zero Museum Workshop has been filling an empty void for people needing a Museum to reflect on and learn about 9/11 that was not available at Ground Zero. Perhaps they should write about the positive contributions to society our Museum has made in nine years."
Ground Zero Museum Workshop - located in the Meat-Packing District of Manhattan, operates daily tours of 9/11 Images & Artifacts from the "Recovery Period." Audio tours, presented in ©REALGroundZero Dolby Stereo, are available in Spanish, Italian, French and English. For tickets call ZERVE at 212-209-3370 or buy tickets at http://www.groundzeromuseum.org. Gary Suson authored the Barnes & Noble Photography Book,"Requiem: Images of Ground Zero.". The Ground Zero Museum Workshop was included in the "Top 25 Museums in the USA" list in 2013.