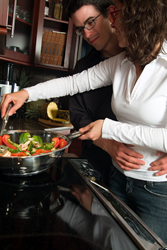 Food is our common ground, a universal experience.
Ottawa, Ontario, Canada (PRWEB) June 23, 2014
It's well known the foods affect human health, but do people know it can affect a libido as well? Please review the food list below. Remember the quality of food is directly related to the cookware everybody uses. Check the article "Is Your Cookware Healthy? Cuisine Sante International Introduces the New Way Of Cooking" to get the most out of regular foods.
Good Foods
There are some controversial foods that affect the libido. It will be listed separately. But most experts can agree the following foods are good for libido. Fitness Magazine, as well as every other well-known source, lists watermelon as a great choice for raising libido. Watermelon has a Viagra like effect on blood vessels, allowing them to relax and open. Relaxed and open sounds like a great start! Also high on the list was seeds and nuts. "Men's Health" magazine declared that the monounsaturated fats in these elements increase the body ability to create a certain type of good cholesterol. It's good because your hormones need it to function properly. Here in no particular order are the top 10 foods:
1) Watermelon - not just great for cooling in the summer. It opens and relaxes blood vessels.
2) Nuts/Seeds – many provide zinc as well as "good" cholesterol.
3) Black Berries/Peaches - these are great for increasing vitamin C which improves sperm counts and increases endurance.
4) Greens (asparagus, broccoli, lettuce etc.) - iceberg lettuce contains an opiate that activates libido hormones, but in general greens are great for zinc.
5) Figs - these contain a fertility stimulant which helps secrete pheromones
6) Oatmeal, whole grains and ginseng - these boost testosterone levels in the bloodstream and provide L-arginine amino acids, great for increased stimulation.
7) Beans, eggs and red meat - all these foods are great for protein.
8) Oily fish - fish such as tuna and salmon contain omega 3 which increases dopamine, the "feel good" chemical in our brain.
9) Unsweetened tea - plain old fashioned tea is great for promoting blood flow, which can increase energy. Just remember - no sugar.
10) Cocoa/chocolate - this is the one everyone has read about. These contain phenylethlamine, a stimulant for excitement (need we say more?) and well-being.
Controversial Foods
These foods should be avoided, or at least used with moderation, in order to avoid a lack of libido.
1) Oysters - while viewed for centuries as an aphrodisiac, oyster and other shellfish will retain toxins. The beneficial zinc content in these foods can be offset by these toxins. Consider spinach or one of the above foods to increase zinc levels.
2) Dairy - The lactose in many dairy products will negate any good aspects of most dairy products.
3) Processed baked goods - these killers contain way too many saturated trans fats. As a general rule avoid them.
Always remember taking the time to create snacks and meals with these foods will all be for naught if not using the right cookware. Cuisine Santé cookware is designed to retain all the vitamins and nutrients available in these foods. Low cooking temperature preserves the integrity of these foods and the Cuisine Santé built in thermometer showing exactly when everything is perfect. Visit our website for great recipes featuring these foods.
Check out our new blog at http://cuisinesantereview.com
Contact us:
1260 Old Innes Road Suite 601
Ottawa, Ontario, K1B 5L3
613-288-9020
Web: http://www.csil.ca