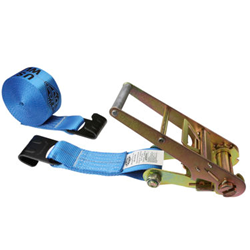 Creating our tie down straps right here in-house has had such a positive impact.
Urbana, IA (PRWEB) June 30, 2014
Specialty retailer US Cargo Control continues to add products to its selection of tie down straps, recently adding 100+ new items in its 3" ratchet straps and 4" ratchet straps categories.
The new products are part of an ongoing category line expansion that has already included the addition of BlackLine premium tie down straps, winch straps, and 2" ratchet straps over the past 18 months.
Tim Sanders, US Cargo Control's Senior VP Operations, says the new products are part of the company's continued overall goal of offering both a wide selection as well as the highest quality product available on the market.
"We spend a lot of time researching the current marketplace, customer needs, industry trends, etc. before we introduce new products to ensure we're not just adding to our inventory, but really keeping the high level of quality our customers have come to expect from US Cargo Control," said Sanders.
Sanders says an example is the company's 3" wide ratchet straps, which are manufactured with a polyester webbing that has a break strength of 20,000 lbs. - the highest available on the market.
The product line expansion is also part of a larger initiative kicked off in 2013: the addition of a sewing and assembly manufacturing department, which allows the company to make its tie down straps on-site rather than outsource them from China. Along with improved quality control and faster turn-around of orders, custom straps can also be easily created on-demand for customers.
"Creating our tie down straps right here in-house has had such a positive impact," said Sanders. "Knowing we can not only guarantee a quality product, but also offer customers just what they need has allowed us to confidently tap into new markets."
According to Sanders, the addition of more tie down straps will continue into the second half of 2014, as the company plans to expand its line of 1" ratchet straps and wheel nets.
###
About US Cargo Control
US Cargo Control is a leader in cargo control industry, specializing in lifting slings, cargo control, rigging equipment and moving supplies. Focused on offering quality products, timely delivery, and an excellent customer experience, customers can purchase products on the company's website, USCargoControl.com or by phone at 866-444-9990.