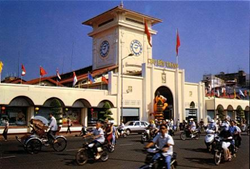 Hanoi, Vietnam (PRWEB) July 03, 2014
Established in 2008, embassyvietnam.org is one of the top 10 travel webpages for global travelers to Vietnam. It received an average of 10,000 daily visits during the first quarter of 2014. This number doubles the average recorded during the same time period in 2013.
Embassyvietnam.org has been running as an informative channel for 7 years. With the optimum and attractive interface, the webpage helps visitors find quickly the up-to-date Embassy address of 200 nationalities. Additionally, tourists will be provided Vietnamese visas on arrival without fee if they book hotels, tickets, tour at the same time from Smile Travel Vietnam Company. At present, the company is offering more than 1,500 tickets from/to Hanoi-Pleiku. Thus, travelers should keep themselves updated with latest promotion campaigns.
For more details, please contact with the head office at 75 Doc Ngu, Ba Dinh district, Ha Noi, Vietnam or the hotline +84 976 127 023.
About Smile Travel Vietnam:
Smile Travel Vietnam Company was established in 2008. With more than 6 year experience in travel industry, the company has been recognized as one of the most reputable companies in Hanoi, Vietnam by most international visitors using the company's services. Customers of Smile Travel Vietnam Company are always satisfied with the quick, secure and cheap services including visas, air tickets, hotel bookings and tours.