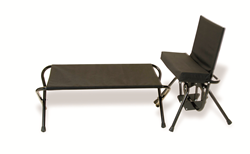 The IntimateRider products allow VidaCura to enhance its product line of equipment that is built to offer more mobility to injured persons, disabled adults and the elderly
Burnsville MN (PRWEB) July 31, 2014
IntimateRider, a pioneering equipment company that designs and manufactures products for couples with physical disabilities, announces a multi-product deal with retailer, VidaCura, a division of Living Well Stores. Spearheading the business deal were Scott McDonald, an IntimateRider executive, and Larry Beck, founder and president of VidaCura. Primary IntimateRider products that will be stocked and sold at VidaCura retail stores include the IntimateRider Romance Set, the IntimateRider and the Rider Mate.
Headquartered in Connecticut, VidaCura opened two new retail stores in Palm Beach County, Florida and Connecticut. Pilot Vida Cura stores, extending across 2,500 square feet, first opened their doors in 2012. Currently, the retailer carries more than 6,000 items, many of the products, like the Lumbar Brace, Breg PTO soft knee brace, HealthSmart digital blood pressure monitor and the Gateway Eurostyle Aluminum Rollator, serving the health and medical industries.
The IntimateRider products allow VidaCura to enhance its product line of equipment that is built to offer more mobility to injured persons, disabled adults and the elderly. Patented technology used to design the IntimateRider gives couples a wider range of motion, improving their intimate relationships. Other products that are compatible with the revolutionary apparatus include the IntimateRider seat cushion and a positioning support strap.
Customers and retailers value the fact that standalone products like the RiderMate can be used independently as well as with the IntimateRider. With the Romance Set, VidaCura will offer a combination of innovative healthy sex products to its customers at reduced prices. Total number of people that could potentially be served by VidaCura's new inventory reach into the millions. Among the elderly, the products could support up to 70 million adults; approximately 21 million injured American adults could be served using the IntimateRider alone.
Free shipping is offered on all VidaCura orders that exceed $75, including the IntimateRider. It is possible to have medical insurance cover the costs of one or more of the health products that are stocked by VidaCura. Types of insurance accepted by the retailer include Medicare, Medicaid and Worker's Compensation.
About IntimateRider
IntimateRider (http://www.intimaterider.com), is a division of Health Postures, a premier designer and manufacturer of health products, including workplace ergonomics and sexual positioning products for physically disabled men and women. IntimateRider products are designed to help adults with arthritis, multiple sclerosis, cerebral palsy, spinal cord injuries, joint replacements and other physical challenges to realize more fulfilling intimate relationships. The products have been on the market since 1996.
Contact:
IntimateRider
14310 Ewing Avenue South, Suite 100
Burnsville, MN 55306
952-873-6136
http://www.intimaterider.com
About VidaCura
VidaCura is a division of Living Well Stores. The company stocks and sells homecare and wellness products. Its customers can also conduct price and product comparisons at its online store. Stocking over 6,000 products, VidaCura has taken steps to open additional stores in various locations throughout the United States. In total, the company's products are built to service over 27 million adult Americans who are living with an injury, chronic pain or a physical disability.
Contact:
Living Well Stores
222 Main Street, Suite 244
Farmington, CT 06032
800-704-8432
http://www.vidacura.com
Sources:
http://www.vidacura.com
http://www.prweb.com/releases/2011/10/prweb8885717.htm