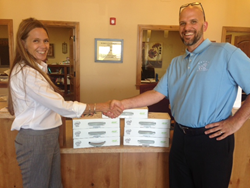 These students are the future. We believe in investing in tomorrow's business leaders, today.- Dianne Parker, Avitus Group Public Relations Manager
Billings, MT (PRWEB) August 18, 2014
Avitus Group donated $1000.00 towards 10 new Google Chromebooks for Grace Montessori Academy, a Billings non-profit school for children ages 3-12. The Google Chromebooks come just in time for the new school year and are part of an effort to get technology at the non-profit school up to speed with what the students will see in the school system and in the real world. The donation comes during the same year Avitus Group launched its new IT service.
"These students are the future. We believe in investing in tomorrow's business leaders, today." Dianne Parker, Avitus Group Public Relations Manager.
"Google Education has put together a phenomenal program for schools where we can purchase the Chromebooks at a much lower price than purchasing regular computers for everyone," President of Avitus Technologies, Kirk Porter.
"Kirk Porter and Avitus have been a wonderful supporter of Grace Montessori Academy. Kirk has helped us develop our technology plan, which has been of great value to enhancing our program. We are so fortunate to have a donor that truly believes in our mission and vision for this community."-Mary Beth Gregory, Grace Montessori Academy Head of School.
Grace Montessori Academy is an educational community. GMA is a 501(c)3 non-profit school focused on educating children from pre-school through upper elementary.
Avitus Group is a nationwide company, based out of Billings, Montana. Avitus Group helps other companies with administrative hassles. When businesses use Avitus Group, all of the necessary, yet burdensome functions of the business become Avitus Group's responsibility, so the business can focus on what they do best, grow and increase profits. Avitus Group serves clients nationwide through 10 regional office locations from California to Florida. They also serve international clients through partner locations in Europe, Canada, China, England, India, Japan and Singapore.