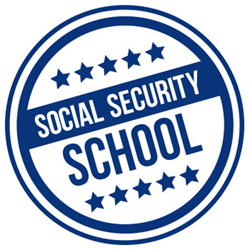 Omaha, NE (PRWEB) August 06, 2014
Social Security Timing® today released the dates of its final Social Security School Road Show training events this year – Sep. 29th in Denver and Oct. 22nd in Phoenix – and announced an additional training day at the Phoenix event. The live training is a fast way for financial and insurance professionals to learn the basics of Social Security and how to incorporate it into their clients' overall retirement plans.
"While the Road Show still covers the necessary Social Security basics in one day, the addition of David Cechanowicz as our new director of education allows us to delve deeper into how to integrate Social Security planning with all other aspects of retirement income planning," said Joe Elsasser, creator of Social Security Timing®, a patented online software application that helps advisors determine the best Social Security claiming decisions for clients.
Elsasser said the second day of training in Phoenix – called Strategic Distribution Planning – was added largely because of demand. Nearly 2,000 professionals from across the country already have registered for or are participating in the Social Security School's webinar series and first two Road Show events in Atlanta and Chicago.
"Financial advisors and insurance agents want more-detailed, practical information on Social Security planning, because their clients are increasingly turning to them for advice on when to claim their Social Security benefits," he said.
The additional day of training will cover qualified plan distributions, Roth IRA conversions, income taxation, legacy planning, and meeting the cash-flow needs of clients who elect to postpone distributions.
Early-bird pricing is available to anyone who registers on or before Aug. 15th for the Denver training and on or before Sep. 1st for the Phoenix Road Show.
Attendees of the Road Show in Atlanta, Chicago and Denver are eligible to attend the second training day in Phoenix. Road Show attendees can earn eight hours of Certified Financial Planner® continuing education credits.
For more information on Social Security School, visit school.socialsecuritytiming.com. Also available on the website is the first webinar, "Why Weak Social Security Knowledge Will Cost You Clients."
About Social Security Timing®
Thousands of financial advisors use Social Security Timing's patented software application to help their clients maximize their Social Security benefits. Social Security Timing® has also developed resources to help consumers maximize their benefits, including a free online calculator and the nation's largest online network of financial advisors who offer Social Security planning as part of their services. Learn more at http://www.socialsecuritytiming.com.