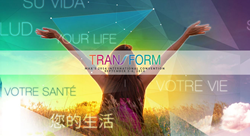 (PRWEB) August 14, 2014
Max International is eagerly preparing for its annual International Convention taking place next month in Salt Lake City, UT. The convention will present the health and business opportunities offered by the company and its scientifically-formulated products, providing attendees with the knowledge and resources to transform their lives as Max Associates. Set for September 3rd through the 6th at the Grand America Hotel (Salt Lake City's only AAA Five Diamond Hotel), the event will include a symposium for medical professionals, as well as debut a new training system directed by Max International executives alongside members of its International Advisory Board.
The medical symposium will feature Dr. Herbert Nagasawa, the highly-renowned medicinal chemist who helped develop Max's patented RiboCeine technology, the groundbreaking ingredient in Max's Glutathione enhancing supplements. Dr. Sally McCormick and Dr. Dean Stubbs are also special guests scheduled to speak and discuss the latest findings on Glutathione's benefits, and more specifically, the research and scientific studies that have demonstrated the compound's significant impact on health, fitness, and weight loss.
In addition to the symposium, Max executives and board members will be leading participants in a breakthrough training session that will provide them with an in-depth understanding of Max's products, as well as strategies for attaining business success as a brand representative. World renowned health care professionals will be present at the convention to support the science behind Max's Glutathione enhancing formula and its ability to assist in the improvement of bodily function and performance.
People are travelling from all over the world to take part in this exciting event, with Associates from Canada, Colombia, El Salvador, the Philippines, New Zealand, Malaysia, Ghana, Singapore, Hong Kong, Australia, and Puerto Rico. One of the VIP guests scheduled to attend includes former NBA all-star and original Olympic Basketball Dream Team member Chris Mullin, who was recently involved in a charity event hosted by Max International that donated over $6,000 to a Puerto Rican children's hospital and a wheelchair basketball team.
Event organizers will be making several surprise announcements throughout the conference that pertain to a business transformation for Associates. One of the most highly anticipated activities scheduled during the conference is the premiere of a Max Gives Back documentary of the company's humanitarian campaign that took place in the Dominican Republic over the last several months.
Max executives have also reserved time during the conference to formally recognize new, upcoming, and established leaders in the company. The top achievers will be receiving further acknowledgment at the Awards Gala, a black tie affair being hosted by renowned professional entertainer and "Master of Ceremonies" Jason Hewlett on the last day of the event to celebrate the company's most outstanding Associates.
To learn more about Max International's Convention, products or resale opportunities, please visit: http://max.com/transform/ to inquire further about Max International or its charity event, please contact Larry Lowe at larry(at)max(dot)com.
About Max International, LLC:
Max International, LLC was founded in 2007 and currently conducts operations in the United States, Canada, Australia, New Zealand, Colombia, El Salvador, Singapore, Malaysia, Puerto Rico, the Philippines, Hong Kong, and Ghana through a direct sales force, made up of more than 174,000 home-based distributors. Its line of uniquely formulated health products employ proprietary health technology, including the patented RiboCeine™ compound, a revolutionary nutrient that helps promote healthy cell functioning and overall well-being. Max International's driving goal is to provide the opportunity for individuals around the world to share the groundbreaking products with others to help promote wellness and health.