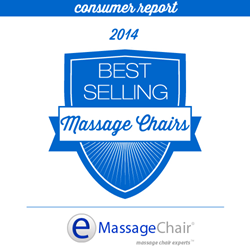 The massage chair experts, who speak with thousands of shoppers across the country, were able to get up close and personal with what shoppers wanted, and find out exactly what they're looking for.
Las Vegas, NV (PRWEB) September 11, 2014
Trusted online massage chair store Emassagechair.com is announcing some of the best selling massage chairs for 2014. They took a look at customer reviews, customer feedback, and popularity to determine some of the hottest massage chairs sold over the last year. There have been a lot of cool new massage chairs available in recent years and it has become more difficult for shoppers to choose which chair might be best for them. The massage chair experts, who speak with thousands of shoppers across the country, were able to get up close and personal with what shoppers wanted, and find out what they're looking for. Below is a great list of some of the most popular chairs purchased during 2014. One thing to notice is how unique each chair is and how it relates to certain peoples specific needs. Emassagechair picked up on this quickly and includes a few additional details on why massage chair shoppers chose certain models.
The new Panasonic EP-MA73 massage chair, which is now their most luxurious model, has already become a top selling massage chair. It was released two months ago and is an upgraded model of their EP-MA70 massage chair. Through extensive R&D, Panasonic was able to find out exactly what their customers wanted. Many of the new massage functions are ahead of their time and include new kneading functions for the feet and hands, heat located in the feet, like that found in the back rollers, and four new stretch techniques. Some minor design changes were made to give it an updated look, which included a new angle to the armrest to make the chair more comfortable, and a solid black upholstery design. Shoppers who are looking for the trusted Panasonic quality, and one of the most lifelike massage machines; will be very pleased with the new EP-MA73. It also comes with the convertible design so it can be used as a traditional lounger. The additional back padding can be left in place and convertible ottoman can be turned around so it acts as a footrest. This is also great for people who are looking for the best of both worlds.
The Infinity Iyashi, which has now been out for over a year, is still one of the most sought after massage chairs. Infinity introduced this chair as a way to offer one of the most unique massage experiences. With its futuristic exterior, and 47 inch massage roller, its able to provide one of the most comprehensive massage experiences. It's the only chair that can massage from the neck down to buttocks, and has the best foot massage design of any chair. Its contemporary design offers an immersive experience that helps a person become completely relaxed. With its new slide forward space saver design, it can be placed right up against a wall, taking up less space. The massage chair experts at Emassagechair think the Iyashi is great for very active people and athletes. The long roller stroke and foot massage target areas like the backs of the legs, hips, and feet that become tight from rigorous exercise.
The Osaki OS-3D Pro Dreamer with its 3D roller has a growing fan base as well. The 3D roller technology, which can be found in the most sophisticated massage chairs, is becoming a standard feature in newer massage chairs. 3D technology allows a user to control the depth and intensity of the massage roller as it massages the back. This helps for people who need deep tissue massage or a more fine tuned experience. On top of the 3D roller the OS-3D Pro Dreamer includes a full body airbag massage, stretch programs, and foot rollers. This chair offers a comprehensive relaxation and massage experience within a unique design that will fit well in any décor. This chair is great for people looking to have an easy to use relaxation experience and an in-depth full body massage.
Lastly is the Fujiiryoki Cyber-Relax EC-3800 massage chair. This is the most lifelike massage chair available. It has one of the most sophisticate massage roller designs letting users control every aspect of the back massage. They have over 10 levels of depth control with the 3D roller and can control all of the massage airbags independent of each other. Designed and manufactured in Japan the EC-3800 has become the most popular chair in Japan, mainly for people looking for the best back massage experiences. Not only is it known for its smoothness of the massage heads and airbags, but also how it reads each users body with the body scan. This year marks Fujiiryoki's 60th anniversary and with all of their years being leaders in massage technology, it's no wonder they are the top selling massage chairs in Japan. The EC-3800 is great for someone looking for the most lifelike massage coupled with high quality Japanese engineering.
For those who can't afford some of the more expensive models, the massage chair experts recommend the Osaki OS-4000t, Cozzia EC363e, and the Infinity IT-8100 massage chairs. For shoppers looking to learn more about any of the chairs listed they are urged to contact them with questions. Emassagechair is always happy to help, and offers recommendations, massage chair reviews, and plenty of demonstration videos for shoppers to watch.
Emassagechair.com
888.360.9996
support–at–emassagechair.com