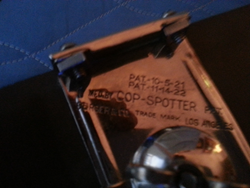 These recovered treasures of Berger and Warren are what we live for. They are part of history and the unique creativity that is seen in museums and fine art collections. Carol Moore
Honolulu, Hawaii (PRWEB) October 14, 2014
Elmer Berger (1890-1962), the American inventor, is credited with inventing, patenting (1921, 1922) and manufacturing the historic rear view mirror for automobiles. He branded his automotive invention the "COP-SPOTTER" which was manufactured by his Berger & Company. For over 50 years, his own personal prototype of the "COP-SPOTTER" had disappeared.
Berger's personal copy of the prototype recently surfaced in a private art vault in Honolulu, Hawaii along with a number of original Jim Warren oil paintings, including two highly publicized nudes, "Sexual Explosion" (1976), which had once been banned from public exhibition in the United States during the seventies for being too sexually explicit, and also another famous nude, "Re-Birth" (1976). Both works of art are highly ranked by Google Images, Yahoo Images, and YouTube.
The YouTube videos where "Sexual Explosion" is featured are titled: "Sexual Explosion" World's # 1 Most Famous Nude Painting by Jim Warren;" "Best Uncensored 40 Seconds of 'Sexual Explosion' World's # 1 Nude Painting by Jim Warren;" "Best Top 10 Most Famous Paintings Based on Google and Yahoo's Images VID by Stan Zipperman;" "Most Famous Paintings - # 1 Nude Sexual Explosion, Marilyn, Mona Lisa in Ravel's Bolero."
"Running Wild (1976)," Jim Warren's iconic horse painting, was also discovered in the private art vault."Running Wild" is the prototype for the cover art on the Bob Seger award-winning album "Against the Wind" (also the title of the Warren painting) for which Warren won the Grammy for best album cover in 1980. The album went on to sell over 6 million copies worldwide, making it one of the most famous horse images in modern art. Other Warren original artworks found include "Eternal Youth," "Children of the Earth" and "Computer Games."
In announcing the news, Carol Moore, an auctioneer, estate consultant and the owner of Estate Liquidators Hawaii, said a member of the Berger family came across the mint condition rear view mirror and other family heirlooms and antiques while unwrapping the private art collection of early Jim Warren original paintings. Moore says, "these treasures are what you live for. They are part of history and represent the unique creativity that is seen in museums and fine art collections around the globe." ELH's new showroom is located at 1126 12th Ave, Honolulu, Hawaii 96816. She declined to speculate on the fate of the discovery. Carol Moore can be contacted at 808-968-0224.
While Elmer Berger, a prominent sportsman, and his wife, opera singer and actress Beatrice Olin Berger lived in the Huntington Palisades coastal neighborhood between Hollywood and Malibu in Southern California during the thirties and forties, they owned a thoroughbred racing stable, the Circle B Ranch. One of their horses was a colt named Boot and Spur who ran in the 1942 Kentucky Derby at Churchill Downs which was won by Shut Out. The Berger stable also owned the popular Santa Anita and Hollywood Park's stakes winner Stitch Again who lost the 1947 Santa Anita Handicap to Olhavery in a photo finish.
Upon Elmer Berger's death in 1962, he was buried at the Hollywood Forever Cemetery, which is located behind the Paramount Studios in Hollywood, California. Hollywood Forever houses the final resting place for some of entertainment's greatest names including Rudolph Valentino, Tyrone Power, Cecil B.DeMille, Douglas Fairbanks, Sr., Johnny Ramone and Jayne Mansfield among hundreds of other Hollywood stars and celebrities.