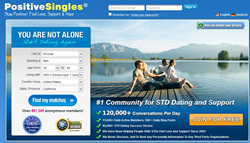 Los Angeles California (PRWEB) September 21, 2014
The online STD dating website PositiveSingles.com was created to help people living with STDs to find dating partners and new friends. During September 2014, the site analyzed all of the keywords used in searches on the site, and compared this with keywords search results from November 2013. Though the total volume of searches was up considerably, the increase was much higher in HIV related searches than others.
HIV searches during November 2013 were 3,000, while for September 2014, this rose to 7,000, a 133% increase. During the same period, searches for HPV went from 1,300 to 2,471 (a 90% increase), and searches for herpes rose from 500 to 1,013 (a 103% increase). Though all of the keywords showed strong increases, the HIV searches had the greatest increase, both in raw numbers and in percentage.
PositiveSingles.com reported that the number of members on the site who are living with HIV rose by 20,000 for the year of 2014, through September. The increase in HIV searches is probably related to this fast-growing HIV dating segment of the membership. With thousands of HIV singles flocking to PositiveSingles.com, it provides an easy explanation for the big rise in HIV related searches.
The fast rise in the number of PositiveSingles.com members who are living with HIV could be a reflection of the worldwide increase in HIV cases. This is especially a problem among young men who have contracted HIV.
PositiveSingles.com is a leading herpes dating site. Though the majority of people who are members of PositiveSingles.com have herpes (about 54%), the people who are living with HIV are now up to 16% of the site's members. Searches for herpes were up 90% over the year before, while searches for HPV were up 103%. These fell well short of the 133% increase for HIV searches.
About PositiveSingles
PositiveSingles.com is the world's largest online dating site that helps people with STDs find HIV positive dating opportunities. The site is designed to help people living with STDs find dates and meet new friends. This site provides its members with a warm, supportive community, and has helped people with STDs find love for the past 13 years. Members can create a free anonymous profile, and member data is never sold, rented or disclosed.