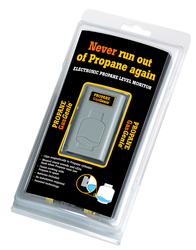 "We have been successful on Amazon and now want to spread our net wider by using manufacturers reps." Peter Frank CEP Inc
Princeton, NJ (PRWEB) September 30, 2014
After some time selling the Propane GasGenie on Amazon CEP started working with manufacturers reps and small retailers in order to get the product stocked locally. That way potential customers could see and handle the product before buying it. Lee Shafer was the first rep to take the product and covers the American Mid West area. He has been very successful with the product so CEP figured it would be a good moment to spread the word wider and find reps in other areas. See CEP's recent press release for more details.
Peter Frank of CEP says, 'We have been successful on Amazon and now want to spread our net wider. LinkedIn Professional will give us the ability to approach all kinds of reps across the country or indeed for them to approach us. The market potential is huge, with more than 7 million new gas grills being sold in the US every year. The competition consists basically of two main alternatives: The method of weighing the tank and the pressure gauge. The weighing method works but does not actively warn the user that his tank needs replacing. He has to remember to weigh the tank before starting the BBQ. And the pressure gauge types really don't work well at all. For reasons to do with the physics of liquefied propane the pressure in a tank does not change with volume present. So all a pressure gauge can do is let you know as the gas is running out, not in time to do anything about it.'
The Propane GasGenie works on a different physics principle to the common pressure gauge. It detects small changes in temperature of the tank wall over time. The software looks for a 'signature' profile and then alarms by playing a tune and flashing its LEDs when the liquid level in the tank gets down to around 20%. So in plenty of time to finish grilling, and even grill a few more times before getting the tank refilled. CEP claims that it is the only gauge that actively warns the user in time to react.
Peter Frank, the inventor of the Propane GasGenie and owner of CEP says, 'We were tipped off to the problem associated with pressure gauges by a major US grill manufacturer. They told us that one of the main unsolved problems for people who BBQ using propane is the sudden discovery that the gas has run out. It always seems to happen at the most inconvenient moment!'
About Creative Electronic Products Inc.
CEP was founded in 1983 to search worldwide for unique and useful products to bring to the US market. The Propane GasGenie is their first product. It is sold on Amazon and also to retailers and manufacturers reps throughout the US.