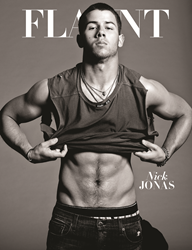 The view of a star stepping into his own spotlight
Los Angeles, CA (PRWEB) October 08, 2014
Just weeks before Nick Jonas drops his self-titled album, the "Jealous" singer shows off his built body on the cover and full feature of one of the world's top fashion magazines. Nick channels the famous '90s Calvin Klein ad starring Mark Wahlberg — in this racy photo shoot. By deliberately keeping on his jewelry, Jonas signals a main difference from the distant 90s: today's men comfortably wear jewelry as an effective way to assert their own unique character. Not an accessory or an ephemeral fashion choice, but a new and fundamental extension of their own exclusive personality.
Jonas wears intricate sterling necklaces featuring skull and arrowhead pendants from William Henry's new collection of men's jewelry. On the wrist, also from William Henry, Nick sports a sterling silver curb bracelet with blue sapphire clasp.
"This photo shoot with Nick and Flaunt caught us by surprise" – says Matt Conable, founder and creative engine of WH. "We have been working for a couple years to take our unique approach to fine craft and bring it into jewelry for men. And I guess it's working – Flaunt requested a few pieces for this shoot, and the results were beyond what any of us expected. The WH jewelry Nick wears is essential to these shots; and these shots are a compelling view of a star stepping into his own spotlight. Flaunt is perhaps the leading authority in trending fashion, Nick Jonas is a man coming into his own with talent to spare, and William Henry makes daring and uncompromising jewelry and men's accessories – put these three brands together and what comes out is a little bit of magic."
William Henry's new jewelry collection features intricate and superbly sculpted sterling silver elements, embellished with rare hand-forged metals, and the precious and exotic materials that are the hallmark of William Henry's world-renowned creations.
###
About William Henry
William Henry is an American luxury brand devoted to the vision of designing and creating superlative jewelry and luxury accessories for men. Designer and entrepreneur Matt Conable founded the company in 1997 and is now the sole owner. Conable first established the brand creating exclusive and award-winning pocketknives, effectively transforming the archetype of all tools into a superb piece of functional jewelry for men. Today's collections also include cufflinks, writing instruments, money clips, and key chains. The brand's first men's jewelry collection was introduced in the summer of 2014.
William Henry's collections are available on its website and through a select network of independent retailers in the US and abroad. For more info on WH visit williamhenry.com