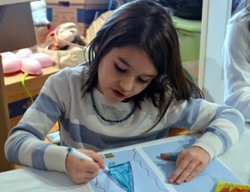 Lemont, IL (PRWEB) October 29, 2014
People matter. Today too many people find themselves on the fringes of society. Christmas always comes. It shares hope and optimism. Everest Academy and members of the local community are working together to provide a Christmas celebration for 500 people that will bring families together in the spirit of charity and sharing. This Community Christmas Bash is paving many paths for people to make a difference in sharing hope and optimism with others.
For children who grow up in families where economic hardship is a grim reality, hope is often elusive and they quietly endure the struggle. A solid foundation of self-worth can be shaken. Everest students and parents decided they wanted to do something to provide hope for these children and their families. Their goal is to create a celebration of positive memories, provide some of life's necessities, and help these children dream big. On November 30, over 5,000 new clothing items, many of life's staples, and educational tools will be shared with people from the local area who really need them.
Everest Academy has taken on the charge of hosting this event and, through their Apostolic Outreach Committee, has organized the collection of donations, multiple sorting and wrapping parties, as well as class projects in order to create opportunities for all to contribute and to make a difference.
It is a wonderful feeling to know you helped someone else see that they matter. Hope and optimism are born. Unity within the community is built. The individual is empowered by learning from new experiences and there is the peace of mind that someone's basic needs have been met. After all, people matter and Christmas always comes.
Everest Academy is an independent Roman Catholic school in Lemont educating children from preschool through eighth grade. The teachers and staff are dedicated to forming the whole child by providing the highest level of academics, by building strong character, and by preparing generous leaders ready to serve the community. If you would like to learn more about Everest Academy's unique approach to education or get involved in the Community Christmas Bash 2014, please contact KC Wollenberg at 630-243-1995 or visit http://www.everestadvantage.org.