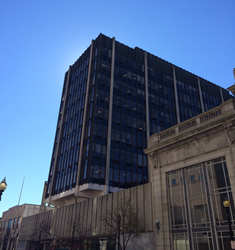 While we are very happy to be able to continue our growth and expansion, we are grateful to our clients, partners and the City of Bridgeport for the support they have all shown GoECart over the years
Bridgeport, CT (PRWEB) November 11, 2014
GoECart®, the leading provider of comprehensive Cloud-based commerce solutions for SMB, today announces their relocation to new office space to accommodate rapid growth and future expansion plans. The new offices are located at 855 Main Street, in Bridgeport, CT. The company will now occupy the fourth floor in the old Southern Connecticut Gas Building.
The move is being made because the company simply outgrew its former office space and needs the room to provide capacity for increased customer support, engineering, sales and services and leadership functions across the company.
"These are exciting times for GoECart, as we continue to add clients and partners on an almost daily basis," says Manish Chowdhary, GoECart's CEO. "We need the new space to help facilitate our growth, and staying in Bridgeport was of paramount importance to us. GoECart and I both have deep roots in Bridgeport, dating back to when we launched the business from my dorm room in Bodine Hall, on the University of Bridgeport campus."
GoECart, concurrent with its growth mode, has also been showered with several recent awards. GoECart was named as a Tech Company to Watch by the Connecticut Technology Council, and was a silver award winner for Company of the Year in The 2014 American Business Awards, in their Seventh Annual Innovation Summit. Chowdhary has also been recognized as a distinguished alumni from his alma mater.
"The University of Bridgeport could not be more proud of Manish Chowdhary, his partners and their success with GoECart," says Mary-Jane Foster, Vice President of University Relations, University of Bridgeport. "From a small dorm room on the university campus to ever larger spaces, this company has grown not only in size but in thought, quality, and results. I'm so proud of their commitment to the university and the wonderful city of Bridgeport."
Chowdhary continues, "While we are very happy to be able to continue our growth and expansion, we are grateful to our clients, partners and the City of Bridgeport for the support they have all shown GoECart over the years. And we'll repay that support by continuing to add enhancement and improvements to our flagship commerce suite, GoECart 360, and delivering quick and comprehensive customer service and support from our new headquarters right here in Bridgeport."
In fact, enhancement and improvements to GoECart solutions and services are proceeding so swiftly that the company is currently seeking qualified applicants in all departments. Go to http://www.goecart.jobs, for more information.
ABOUT GOECART
GoECart provides a complete software suite, GoECart 360 that enables SMB merchants to manage all aspects of omni-channel commerce— from ecommerce, order and inventory management, and in-store POS to marketing, merchandising, emarketplaces, fulfillment and customer service. GoECart eliminates technology and integration hassles, allowing businesses to run better and grow faster. The feature-packed GoECart 360 suite was designed from the ground up to be modern and meet the needs of today's empowered and connected customers. Additionally, GoECart's cloud-based delivery model delivers on the rewards of software-as-a-service (SaaS). These include zero investment in infrastructure, no integration headaches, free upgrades, and affordable, pay-as-you-go pricing.