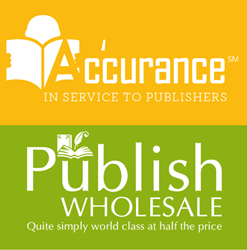 The guarantee is to produce no less than 2,000 Twitter followers for an author… not just 2,000, but 2,000 with a profile of a high level of seriousness and commitment.
(PRWEB) November 26, 2014
The rapidly evolving world of social media may seem hard to keep up with, much less master. With Facebook, Twitter, and other social media having evolved into a wonderful place for authors to market themselves and their works, building a volume audience that can eventually become loyal followers and buyers has become the most important criteria in the success rate of an author's book promotion venture. Unfortunately, successful social media marketing is also the most elusive for the majority of authors. Because of this, Accurance and Publish Wholesale are happy to announce a volume audience-building management service line with a money-back guarantee.
According to Jon Fitch, founder of Accurance and CEO of Publish Wholesale, "Most authors may be able to set up various accounts and update them with posts relevant to their books, but very few are fluent in the strategies and techniques that build a high-volume target audience. Ten percent of self-published authors report making an independent living on their royalties. All of those top earners have figured out how to build a large volume of audience. It is as important to the success of an author as a page-turning plot."
This service line that will focus on Twitter is being offered with 100% money-back guarantee. "We've done our homework and developed an audience-building method we are hugely confident in," says Fitch. The guarantee is to produce no less than 2000 Twitter followers for an author during the length of the project—usually 8 to 12 months long. Fitch also states that as the longtime company commitment across all services is best in class for self-publishing, the new social media service line is no exception. "The audience growth we produce is often more than 2000, but there are tons of our analytics that go into it. So, it is not just 2000, but 2000 with a profile of a high level of seriousness and commitment."
About Jon Fitch (LinkedIn)
Jon Fitch is an accomplished entrepreneur who has run Inc. 500 businesses, consulting businesses, marketing businesses, publishing businesses, and more for the nearly 30 years. He is the founder and CEO of Accurance and Publish Wholesale, production and promotion services firms for publishers and authors.
About Publish Wholesale and Accurance
Accurance and Publish Wholesale were recently named #1 in a client satisfaction survey involving 600 self-published authors in North America. Publish Wholesale is a self-publishing firm that provides high quality and low cost publishing and promotion services to independent authors. For more information about the company and its services, visit http://www.publishwholesale.com. Accurance is the premier production services provider to the self-published publisher community, serving half the world's ten largest P.O.D. publishers as their production backbone, among other clients. For more information about Accurance, visit http://www.accurance.com.