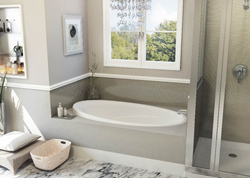 At IBS, we plan to exhibit a cross-section of products representing some of the 'best of the best' in our collection when it comes to engineering and design for today's trade customers and consumers.
Anaheim, California (PRWEB) December 02, 2014
Aquatic, the leader in innovative bathware, today announced plans to celebrate its 50th anniversary at the 2015 International Builders Show (IBS) by exhibiting a broad spectrum of products, including new models recently added to the best-selling Serenity hydrotherapy series.
"Aquatic is marking half a century of leadership in the bathware industry with an expanded presence at this year's builders' show," said Martin Joines, Senior Vice President, Sales & Marketing, Aquatic. "We plan to exhibit a cross-section of products in three locations, representing some of the 'best of the best' in our collection when it comes to engineering and design for today's trade customers and consumers."
AQUATIC IN THE PARK CITY HOME
Aquatic is the exclusive supplier of bathware for Show Village's "Park City" home (Booth #P2), a mountain resort-style house provided by Irontown Homes, a custom modular builder. Located outside the convention hall, Show Village enables convention attendees to see today's best residential building products in installed environments.
The master bathroom in the Park City home will feature a working version of Aquatic's beautiful and super luxurious Serenity 55 DriftBath, one of eight new, streamlined and modern-looking Serenity models. This drop-in, acrylic tub has sleek, clean lines softened by an oval bottom, a curved back area and shaped armrests, encouraging the bather to recline and relax. A front-to-back graduated deck height and an elongated backrest maximize the bathing space without increasing the tub's footprint. An optional linear overflow drain allows the tub to be a few inches lower in height without sacrificing bathing well and water depth.
The award-winning DriftBath system, exclusively available from Aquatic, provides an unmatched, gentle and soothing bathing experience. Up to 70-plus, water-only ports individually release a delicate ribbon of moving water that converge and flow in one direction. The result is a soft current that simulates sitting in a calm stream.
The master bath shower will consist of Aquatic's A2 Composite 4834CPAN pan, finished with a 12"x24" horizontal, porcelain tile-up application and a clear, frameless shower door for an up-to-the-moment look.
Additional bathrooms in the house will include Aquatic's 6032SMIN modern, skirted tub, part of a new family of streamlined DuraCore™ bathtubs that strike a smart balance of sophisticated design, versatility and value. Also displayed will be the 16034STTS shower from the company's subway tile collection, which offers a timeless, classic look without the cost of installing and maintaining ceramic tile. The laundry room will contain an operational Delicair I sink for hand washing clothes and even small pets. The 25"x22"x12" acrylic basin is engineered with the same standard-setting air bath technology that Aquatic uses in its full-size tubs.
"Aquatic is a builder's best friend," said Kam Valgardson, Business Development Manager, Irontown Homes. "We've been using the company's products for years because they are great quality and cost-effective. We're excited to use them any time we can."
AQUATIC'S BOOTH
At its own booth (P9), also in Show Village, Aquatic will exhibit the Serenity 52, another great, new addition to the Serenity family. The acrylic tub is a modern-style, drop-in model available with an optional linear overflow drain. It has an oval bottom with a rectangular shape at the top to create a spacious bathing well and ample contouring for the bather's lumbar area.
Aquatic additionally will have two versatile DuraCore™ products on hand: the 160304PS shower, which is a four-piece unit with a large integral seat; and a new, coordinating skirted tub option. Available with a right or left drain, the 60"x30"x76" shower is ideal for replacing a tub. Both the shower and the tub-shower have large shelves to accommodate plenty of toiletry items. Also at the booth will be the 3636CS shower, part of the A2 Composite offering. Measuring 36"x36"x76", it is an excellent choice for narrower spaces.
AQUATIC AT THE BUILDER PARTNERSHIPS BOOTH
Aquatic is among a select group of manufacturers invited to show products at the Builder PartnershipS booth (Booth #S1000) in the convention hall. These products will include the award-winning 6032STT subway tile tub-shower, named by Professional Remodeler Magazine as one of this year's 100 best new products. The 6032SMIN modern, skirted DuraCore™ tub will be at the booth, as well.
"We're thrilled about having Aquatic at the show with us this year – the company has been a great partner for several years, offering outstanding and award-winning products," said Chuck Shinn, Principal, Builder Partnerships, one of the country's leading networking and training organizations for the building industry. "We want our members to learn about the Aquatic difference firsthand and fully appreciate how our strong partnership with the company benefits them."
ABOUT AQUATIC
At Aquatic, we are The Bath People -- a skilled team of American craftspeople and service personnel -- dedicated to delivering bath products and bath experiences unlike any other. Aquatic offers the largest and most innovative selection of tubs, showers and bathware accessories. The company's world-leading Hydrotherapy, Everyday and Accessible lines include more than 300 products for virtually every need – all designed and made in America. Based in Anaheim, California, Aquatic serves distributors, builders, plumbing professionals, architects, designers and consumers through a nationwide network of state-of-the-art facilities for manufacturing, distribution and support. For more information, visit http://www.aquaticbath.com.
# # #