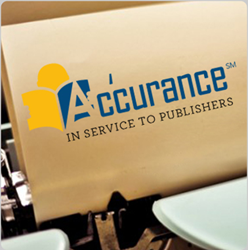 (PRWEB) December 22, 2014
With social media having proven to be today's most effective channel for marketing activities, Accurance comes up with a new audience building tool specifically designed for Twitter accounts set up to promote authors and/or their titles. Called the Twitter audience building program, the system helps publishers attract the right followers through various strategies and grow the list of followers by the thousands.
This new addition to Accurance's author and book promotion services guarantees to boost Twitter audience by at least 2000 organic followers within a period of eight to twelve months. To ensure that the account promoting a book or an author will only attract the right audience, Accurance has developed a rigorous method of monitoring and evaluating analytics to ensure that the 2000-plus followers are not made up of random users but of legitimate individuals or groups interested in what the author can offer or the book's content.
As an assurance, Accurance announces that publishers will get their money's worth or their money back. Accurance offers the Twitter audience building program with 100% money-back guarantee if the quota of at least 2000 followers per Twitter account is not reached within the duration of the contract period (8–12 months). Jon Fitch, founder of Accurance Group, is confident that the company can deliver its part of the bargain: "We've done our homework developing an audience building method we are hugely confident in."
About Jon Fitch (LinkedIn)
Jon Fitch is an accomplished entrepreneur who has run Inc. 500 businesses, consulting businesses, marketing businesses, publishing businesses, and more for the nearly 30 years. He is the founder and CEO of Accurance and Publish Wholesale, production and promotion services firms for publishers and authors.
Accurance is the premier production services provider for the self-published publisher community, serving half the world's ten largest P.O.D. publishers as their production backbone, among other clients. It is also recently named #1 in a client satisfaction survey involving 600 self-published authors in North America. For more information about Accurance, visit http://www.accurance.com.