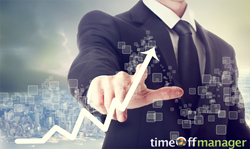 Night and day from our previous system; this has cut down my manager's work load tremedously. -- D. LEE, AIR PRODUCTS
(PRWEB) December 31, 2014
During the past year, Ironflow Technologies Inc., creators of Time-Off Manager, have been very busy working on amazing new features for their clients. Here are some major changes or events that have taken place in 2014.
1. Time-Off Manager Available In Spanish & French:
Early in December 2013, Time-Off Manager was made available in Spanish and French to increase the availability and flexibility of their leading-edge leave management software. All communications (emails, logs) can be changed to Spanish from the Account Options page.
2. The Launch of a New Product:
Warnings is a new product developed by Ironflow Technologies Inc. early in 2014. This Disciplinary System is designed to track and manage all infractions, violations and incidents that can occur within a company. Warnings currently include the following features:

Custom actions to be taken when a violation occurs
Custom violation/infraction types
Employees must digitally sign and acknowledge a Warning
Warnings can be printed for your records
Centralized repository for all warnings
3. Mobile Version of Time-Off Manager:
With the use of mobile devices quickly growing, the creators of Time-Off Manager decided to make their leading-edge application available on mobile devices with the launch of their Mobile version of TOM. Clients can now access their TOM account on the go on any mobile device.
4. Time-Off Manager Reached #1000:
Since acquiring their first client in February of 2009, Time-Off Manager has grown into a highly trusted leave management application that is now used by over 1000 companies worldwide.
What can customers expect for 2015? Ironflow Technologies Inc. is working around the clock to create new products for their clients to meet the high demand for easy to use web based software. They are challenging themselves to bring you other amazing products such as web based Time-Clock, Time-Sheet and a core HRIS module to help companies with tedious administrative duties related to employee attendance. Developers are working hand in hand to create these products, and anticipate a release to the public early in 2015.
The team at Ironflow Technologies believes that their clients will truly benefit from the new features and products that will be offered in the new year, therefore they highly recommend monitoring their social media networks or website to take advantage of future changes.
Try Time-Off Manager to track and manage your employee leave for FREE. No credit card required. No contracts. Upgrade, downgrade or cancel at any time. Keep up with new features and news from Time-Off Manager by following us on Facebook, Twitter and LinkedIn.