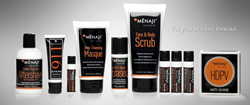 "Already we have seen a significant increase in traffic to our website, improved our relationships with the fashion and beauty blogger community, and seen more engagement with our customers online"
(PRWEB) May 27, 2014
With the market for men's skincare growing at a rapid pace, Mënaji Worldwide, LLC adds a Director of Social Media and Digital Marketing to the team. "As a consumer product targeted to men's grooming, we feel this position is key in order to drive brand awareness on the social channels and reach our customers who are using social media," says Pamela Viglielmo, Chief Operating Officer at Mënaji Worldwide.
Nancy Kenney has been selected to oversee social and digital marketing. Ms. Kenney has an extensive background in social media as the Principal of Green Girl Media, LLC, a digital marketing and social media management agency based in Southport, CT. Green Girl Media works with businesses across the U.S. to manage their online social networking profiles. Ms. Kenney has worked in social media since 2008 and is a graduate of Champlain College.
"The digital marketing environment continues to move very quickly and brands like Mënaji Skincare are making smart decisions about this space. My focus is on creative content and online advertising for direct-to-consumer (B2C) campaigns, SEO, SEM and brand awareness in their market space, and e-commerce and mobile commerce sales" says Kenney.
Ms. Kenney started working with the Mënaji Skincare brand in November 2013. "Already we have seen a significant increase in traffic to our website, improved our relationships with the fashion and beauty blogger community, and seen more engagement with our customers online" say Viglielmo.
Mënaji is currently looking to fill Sales positions based out of their Connecticut corporate offices in Southport, CT. The company also works closely with the local community by providing a very active and strong year round internship program. "Student interns provide us with the opportunity to tap into the buying behaviors of a younger generation which Nancy uses for creative development and social marketing" says Viglielmo.
Mënaji launched their Sunless Tan product in March, redesigned their HDPV Anti-shine packaging, and will be launching more products in the near future. "We are poised for continued growth and product expansion."
For more information about the company and their open positions, visit http://www.menaji.com or email hr(at)menaji(dot)com