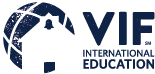 We look forward to working with our partner districts, schools and teachers - both international and domestic - to create engaging learning environments that prepare students for life and work in an increasingly global society and economy
Chapel Hill, N.C. (PRWEB) August 25, 2015
VIF International Education, a global education partner of K-12 schools and districts, will work with schools from California, Kentucky, Mississippi, North Carolina, South Carolina, Texas, Virginia and Washington to integrate global concepts into daily classroom instruction through use of professional development for teachers. This will be the first year schools from California, Kentucky, Mississippi and Washington participate in the VIF Global Schools program.
In addition, VIF also welcomes 268 teachers from 23 countries to its cultural exchange teacher program. These educators will join more than 500 current VIF cultural exchange teachers who bring authentic intercultural experiences to school communities and lead dual language immersion classrooms in North Carolina, South Carolina and Virginia. Educators in both programs will have access to expert-created global lessons and professional development modules through VIF's Learning Center.
"Modernizing teacher training to assure global learning opportunities for all students is at the core of what we do," said VIF CEO David Young. "By taking advantage of the incredible advances in technology in recent years, we now have the tools and resources we need to achieve this mission. We look forward to working with our partner districts, schools and teachers - both international and domestic - to create engaging learning environments that prepare students for life and work in an increasingly global society and economy."
Last year, a study from UNC's Education Policy Initiative shared that VIF cultural exchange teachers were recognized as the most effective educators in both reading and math at the elementary level in North Carolina when compared to teachers trained by traditional preparation programs. VIF's research-based recruitment, selection and placement process ensures teachers selected to participate in the program are experienced, highly competent and committed to their schools and students.
For more information on VIF's global education programs and services please visit our website at http://www.vifprogram.com.
###
About VIF International Education
VIF International Education partners with districts and schools to develop global-ready teachers and students. For more than 25 years, educators have used VIF's professional development and curriculum, language acquisition and cultural exchange teacher programs to create engaging learning environments that integrate technology, cultural literacy and other 21st century skills into classroom instruction. VIF is a certified B Corp and 'Best for the World' honoree headquartered in Chapel Hill, North Carolina.