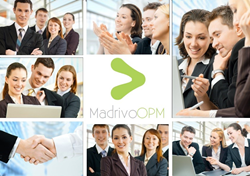 MadrivoOPM aims to fill the gap between vendor and merchant with their knowledge of the expectations, risks, and solutions that arise in the affiliate space.
Las Vegas, NV (PRWEB) January 08, 2015
By 2016, affiliate marketing spend is estimated to exceed $4 billion, meaning the industry will triple in growth in only six years. Needless to say, opportunities for generating revenue through online consumers abound, especially when approached professionally and tenaciously by an Outsources Program Management (OPM) division.
Madrivo, a forerunner in the affiliate marketing space and pioneer of techtelligence, recently launched an OPM division designed to match online retailers with their target demographic as a means of fostering new customer acquisition and maximizing profitability while simultaneously developing a positive reputation around the advertised brand.
Madrivo's OPM division, MadrivoOPM, will be at Affiliate Summit West in Las Vegas, Nevada from January 18th through January 20th to introduce everything an OPM has to offer to advertisers, networks, and affiliates alike. The Affiliate Summit show, which attracts over 5,000 attendees and has already sold out, nurtures the merchant-vendor relationship between all key players in affiliate marketing. Knowing that nearly ¾ of past show attendees have expressed a preference for email communication prior to a show, MadrivoOPM has already connected with multiple advertising companies in need of access to the top-performing networks and looks forward to furthering relationships at the Madrivo Meet Market table and Exhibitor Booth throughout the show.
A distinguished OPM manager not only has the experience and wisdom that drive a successful affiliate program but also trusted relationships with the largest and most profitable channels in the space to give their clients access to low-risk, high profit margin sales opportunities. Linda Woods, one of the original players in affiliate marketing, will be managing MadrivoOPM along with a team of vetted affiliate managers who know exactly what it takes to run an effective online advertising program. MadrivoOPM has relationships with all of the major networks that attendees already work with, making the transition easy but still worthwhile.
According to Affiliate Summit's 2-14 AffStat report, over 75% of attendees find the relationship with their affiliate manager a valuable asset to the success of their business. Furthermore, over half of attendees are running more than 10 programs without the professional guidance of an affiliate marketing expert. The MadrivoOPM team aims to fill the gap between vendor and merchant that an otherwise saturated network may not be able to do. Their experience in the affiliate space has educated them on the expectations, risks, and solutions that come with working in the online retail industry.
Some may wonder why they need an OPM manager when they already work with all of the best networks in the space. The answer is simple. An OPM program encompasses all of resources and management a strong affiliate program needs, allowing brands to focus their energy on the overall success of their company. MadrivoOPM recognizes the need for an OPM manager who will make concentrated efforts to establish meaningful relationships with all of their clients and act as liaison to ensure all participating parties see the best results possible.
Schedule a meeting with the MadrivoOPM team today at Meet Market table 709 and Exhibitor Booths 9001 and 9002 from January 19th-20th to learn about all MadrivoOPM has to offer.
About Madrivo
Madrivo is an integrated marketing agency that helps companies to acquire customers digitally and to establish the most cost effective online presence.
Press Contact:
Ms. Sarah Dysthe
press(at)madrivo(dot)com
3889 S Eastern Ave
Las Vegas, Nevada 89169
United States