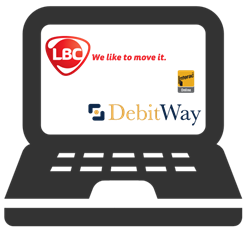 By providing DDT payment services, Debitway allows those Filipinos living in Canada the luxury of sending funds home safely and securely without having to leave the house. They simply have to navigate the web to LBC's website and complete their request
Montreal, Quebec (PRWEB) January 29, 2015
DebitWay continues to make news and expand its alternative payment service provider (PSP) global presence. The Montreal, Quebec based DebitWay who can already boast partnerships with online remittance enterprises such as Duales, Transfast and Money2anywhere amongst others, has continued to grow its remittance portfolio, and the latest addition of the Filipino giant LBC Mundial Remittance Corporation is proof positive of DebitWay's continued commitment to supporting the remittance industry.
While DebitWay has been making news recently for their continued expansion of payment options offered –
DDT and Electronic Funds Transfer (EFT – eChecks) to name but two of the payment methods that comprise the DebitWay family – Rod Tomita (Director of Business Development & Production) was quick to add, "DebitWay has grown its family of payment options to be sure, but one must understand that we have done so at the behest of our partners. DebitWay's primary focus is providing merchant partners with the payment options they require. Whether that is DDT or any other form of online payment method, DebitWay will continue to innovate in order to satisfy its partners' needs."
DebitWay's latest merchant partnership is yet another indication that the alternative payment service provider continues to grow and expand its global network. While the Montreal, Quebec based company can already boast merchant partners over seas, the latest partnership with LBC firmly embeds the Canadian PSP into the Filipino remittance infrastructure.
LBC has been a towering force in the Philippines since the 1950s. What initially began as a dedication to air brokerage and air cargo has evolved over the many years, effectively creating a brand that is as recognizable in the Philippines as Coca-Cola or Mercedes Benz.
With a firm grasp and understanding of the deep attachment that Filipino migrants retain to their native country, LBC has added the ability to send funds "home" (to the Philippines) from almost anywhere in the world. While previously those looking to send funds were forced to make physical trips to specific locations in order to supply and transfer the amount of money in question, with the advent of the internet, the dedication of LBC and the foresight of DebitWay, migrant Filipinos can now send money back to the Philippines from the comfort of their own homes via online debit transfers.
LBC and DebitWay have partnered together to allow Canadians of Filipino decent, of which there are a reported 660,000 to 800,000 living in Canada (roughly 2% of Canada's 35.16 million population), the ability to send money back to the Philippines online via DebitWay's Direct Debit Transfer (DDT). This payment option allows LBC to accept direct debit funds from all Canadians who transact with financial institutions that honor online debit transfer services, thus facilitating the transfer of funds and expediting the remittance process.
When asked what this means for Canadian's of Filipino decent, President and CEO Hugo Bonilla said, "By providing DDT payment services, Debitway allows those Filipinos living in Canada the luxury of sending funds home safely and securely without having to leave the house. They simply have to navigate the web to LBC's website and complete their request."
For those Filipinos living outside of Canada who also wish to remit funds back to the Philippines via direct debit, Rod Tomita added, "DebitWay is equipped to offer LBC Direct Debit Transfer (DDT), on a Global stage. We are in talks and hope to finalize the deal in order to give Filipinos all over the world, not just Canada, the ability to remit funds with direct debit from the comfort of their homes."
To which Hugo Bonilla added, "It is, and will continue to be, LBC's goal to provide Filipino's all around the world with the most trustworthy and reliable means with which they can send goods and funds back home to the Philippines. We have over 35 branches in the United States as well as branches in Saipan and Guam, our aim is to provide them all with the DDT option."
Headquartered in Montreal, Canada, since 2004, DebitWay continues to be one of the world's leading Certified Payment Service Providers, as well as a Payment Provider of INTERAC® Online Payment (IOP) solution in Canada. DebitWay merchant partners continue to benefit of being able to accept bank payments in real-time instantly.
Interac and the Interac logo are trade-marks of Interac Inc. The Interac Online Payment service is owned and operated by Acxsys Corporation