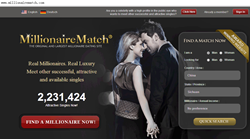 Los Angeles California (PRWEB) January 23, 2015
MillionaireMatch.com, the premier millionaire matchmaking site, reports the discussion of its members' attitudes towards plastic surgery when choosing a match. This topic was heatedly discussed on the site's blog on Jan.22.
Members on this millionaire dating site showed different opinions towards this topic. Most of them said they would not mind dating someone who has had plastic surgery. What they would care about the most is the health problem(s) that could arise from the surgeries. Every person has the right to change something about their bodies that would make them feel good, plastic surgery-wise. The surgery (or surgeries) can make people feel more beautiful and confident. However, plastic surgeries can have side effects, which can be risky.
Plastic surgeries have grown more and more popular throughout the general public. Though both sexes can improve their physical appearances through plastic surgery, in most cases, people choose cosmetic surgery in order to boost their self-confidence and to be considered more attractive to the outside world, especially towards the opposite sex. But when it comes to dating, will plastic surgery serve its purpose, or will it provide the opposite effect?
According to the survey conducted by MillionaireMatch on Dec. 10, physical appearance is not deemed as important as people might imagine.There are still many people who do not have a special preference on the look of their partner.
The majority of the members of the millionaire club were in a neutral state when discussing this social trend. Most of them expressed that they would not mind dating a lady or gent who had undergone cosmetic surgery to improve their appearance. What they actually cared about is whether the cost they paid was too high since there can be side effects caused by plastic surgeries.
On the other hand, some members said that they would feel uncomfortable if they dated someone who has had plastic surgery. They said they may have the feeling that the people they dated were "not real." Others showed they preferred to date people who are confident, which also sounds reasonable.
About MillionaireMatch.com
MillionaireMatch.com is the largest millionaire dating site which has been bringing together successful singles for over 12 years. It was voted "Best of the Web" by Forbes.com. Its members include CEOs, pro athletes, doctors, lawyers, investors, entrepreneurs, beauty queens, fitness models and Hollywood celebrities, just to name a few.