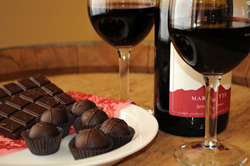 Allenhurst, New Jersey (PRWEB) February 02, 2015
New Jersey wineries are coming together to give happy couples the perfect romantic getaway for Valentine's Day in the annual "Wine & Chocolate Trail Weekends." Hosted by the Garden State Wine Growers Association, the two-weekend event features wine tastings from over 40 New Jersey wineries, samples from local chocolatiers, special attractions, multi-course dinners and entertainment. Tastings will be held on February 7th-8th and continue on February 14th-15th. Event times vary each day.
Many participating wineries will also be incorporating unique attractions to the tasting including: a dinner dance; a murder mystery dinner theatre; an instant photo booth; a book signing by Charlie Toms, author of Road to the Vineyard: Cruising Through New Jersey Wine Country; prizes; discounts and more!
For a list of participating wineries and ticket information, visit The Garden State Wine Growers website at http://www.newjerseywines.com/events/category/trail-weekends/ or go to http://www.prweb.com/releases/2015/01/prweb12470021.htm.
About Bielat Santore & Company
Bielat Santore & Company is an established commercial real estate firm. The company's expertise lies chiefly within the restaurant and hospitality industry, specializing in the sale of restaurants and other food and beverage real estate businesses. Since 1978, the principals of Bielat Santore & Company, Barry Bielat and Richard Santore, have sold more restaurants and similar type properties in New Jersey than any other real estate company. Furthermore, the firm has secured in excess of $500,000,000 in financing to facilitate these transactions. Visit the company's website, http://www.123bsc.com for the latest in new listings, property searches, available land, market data, financing trends, RSS feeds, press releases and more.