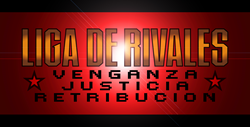 "No more Hispanic stereotypes. We are going to empower Hispanics – and value the ways our culture shapes their attitudes, behaviors and approach to gaming," relates Juan Belón Pérez
Los Angeles, California (PRWEB) February 11, 2015
Grudge Match Sports will be launching Liga de Rivales (League of Rivals), an in-culture, Spanish-language eSport, which will include a mobile game, streaming platform, and television shows to authentically reflect the growing influence of Hispanics in America. Liga de Rivales will complement the recently announced Grudge Match. Both Grudge Match and Liga de Rivales games will launch this summer.
Liga de Rivales is similar to Grudge Match. Two people who have a dispute with each other can settle their differences in a three-to-four-minute mobile game, and their game play will be streamed live. Players will be able to create personas or be themselves, dress their game players in heroic or outrageous costumes, pick their weapons and/or abilities, select one of the stylized play arenas, and head off to settle their dispute electronically. If players do not have a dispute or disagreement with anyone, the Liga de Rivales game -- which will troll social media – will instantly match them with someone with whom they disagree. A Rules Committee – officiated by players and Grudge Match Sports -- will govern the core game.
Hispanic game play has predated many cultures. Archeologists throughout Latin America, Central America, and Mexico have discovered ancient ball courts -- which they believe were used for games called pelota (similar to basketball and soccer) -- that date back to ancient Aztec and Maya civilizations. Based on stone carvings, experts believe that these ancient ball games were used to determine the outcome of conflicts between tribes. Liga de Rivales brings the spirit of ancient, Hispanic cultures settling disputes through game play to the present.
"Hispanics and their entrepreneurial spirit are transforming the gaming community. We believe that Hispanic audiences -- and their growing engagement in gaming -- can help us set the standard for Grudge Match Sports' Liga de Rivales," according to Rich Melcombe, CEO of Grudge Match Sports.
Nielsen, Experian Marketing and Think Now Research have reported that, on average, Hispanics spend more time playing games per week than do non-Hispanics. An analysis of data generated by Nielsen, ESPN, Riot Games, SuperData, and Think Now Research shows that Hispanic gamers closely match the same demographic breakdown of eSport enthusiasts globally, and that Hispanic males 18-34 play the most overall.
"The research tells a compelling story for anyone interested in reaching the pulse of the Hispanic demographic. With over 30 years in entertainment and 18 years in the Spanish-language media space, producing television shows for Univision and Telemundo, and consulting on media strategies, we understand the value of the Hispanic audience," comments Rich Melcombe.
Built to serve the mobile, free-to-play gamer, the Liga de Rivales game is being created by a group of global game developers under the direction of Dave Young, game designer and Tech entrepreneur. According to Young, "Tech-savvy, mobile-dominant Hispanics represent a significant opportunity in mobile gaming, and they will help guide us to launch the most effective Spanish-language platforms throughout the U.S. and Latin America. Juan Belón Pérez, who resides in Granada, Andalucía, Spain, has joined our development team to spearhead Liga de Rivales."
"No more Hispanic stereotypes. Our Liga de Rivales game is being designed from the ground up to be modifiable by user-generated content. In the past, the roles of Hispanic characters in games have been unrealistic, poorly portrayed, and not significant to a game's storyline. We are going to empower Hispanics – and value the ways our culture shapes their attitudes, behaviors and approach to gaming. We do not believe in having a one-size-fits-all philosophy," says Belón Pérez. We're going to set up the framework to create any kind of ability, weapon, effect, theme, map, costume, or customization you can think of that will allow people to culminate a grudge in public. We believe that we will deliver a unique experience to Hispanic gamers. My first language is Spanish. I understand Latin culture, and live as I speak."
In addition to its mobile game, Liga de Rivales will include a streaming platform, "Universo" – where all game play will be streamed live – and live television shows that will launch by the first quarter of 2016. "This in-culture, Spanish-language gaming platform will be created by Hispanics for Hispanics, and will have its own management team. We plan on scouring the world to find the best talent. In addition to offering 100% Spanish-language shows, all English-language Grudge Match TV shows will be simulcast in Spanish too. Grudge Match & Liga de Rivales gives every Hispanic the best of both worlds," states Melcombe
"We realize it takes time and a long-term commitment to win the Hispanic market. As such, we have engaged the services of Hispanic marketing and in-culture engagement expert, Glenn Llopis, whose business specializes in product design and engagement models," Melcombe offers. "I'm excited to be involved with Grudge Match Sports and the Liga de Rivales family. Their forward-thinking approach to authentically empower cultural values as a means to engage and portray the growing influences of Hispanics will be a game changer," according to Llopis
Grudge Match & Liga de Rivales. Personal Justice for All.