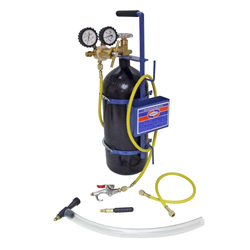 Quality Tools That Go To Work With You.®
Fort Lauderdale, Florida (PRWEB) February 12, 2015
Now is the perfect time to get your HVAC system prepared for the upcoming season, with nitrogen solutions featured in Uniweld's latest brochure. Uniweld's new "Nitrogen Solutions For HVAC/R" brochure details the tools and equipment needed for prepping & maintaining HVAC/R systems with nitrogen flow indicators, regulators, & kits and many more quality products from Uniweld Products, Inc..
Uniweld RHP Series Regulators: The RHP400 & RHP800 regulators for use with nitrogen & CO2 are specially designed for purging and pressure testing. The large "T" Handle also gives the user precise control over the instrument.
NV1 Nitrogen Flow Indicator: The NV1 NitroVue™ is nitrogen purging simplified. The precision adjustable valve for low flow of nitrogen gas when brazing copper tubing and bright orange float ball for visual confirmation of gas flow, make using the NitroVue™ a breeze. Visit Uniweld's YouTube channel to view product videos and learn more about the NV1 Nitrogen Flow Indicator.
Uniweld HVAC/R Kits: The Nitrogen Sludge Sucker® / Blaster® Kit is multifunctional and can be used for purging an A/C or refrigeration system, leak-testing a refrigerant line, calibrating coils, inflating tires, unclogging sinks, and much more. These kit option include a choice of high or low pressure nitrogen regulators and various carrying stands. Also available is the Sludge Sucker® Maintenance Kit, which includes an RHP400 nitrogen regulator and many Uniweld accessories for cleaning condensate drain lines and blowing off coils.
Additionally, Sludge Sucker® Accessories are available as separate items. Such accessories include, but are not limited to: Sludge Blaster® (40061), Needle Tip (40048), Blowgun (BG1), Rubber Plug Adaptors (40022, 40050, 40051, 40052, 40053, & 40054), Air Chuck (40045), and more.
For more information on these products, please see the attached brochure or visit Uniweld.com. So, get to it, with Uniweld Products, Inc… "Quality Tools That Go To Work With You."®