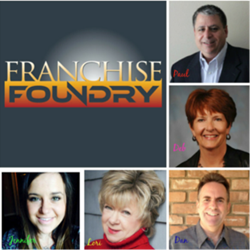 We are heading to the IFA Annual Convention eager to share our unique expertise and some key best practices with the thousands of attendees who are just as passionate about franchising as we are. - Paul Segreto
Houston, Texas (PRWEB) February 13, 2015
Franchise Foundry, the development agency for various emerging brands representing several industries, will join thousands of leading franchise professionals in Las Vegas, NV to help the International Franchise Association celebrate their 55th anniversary at the IFA Annual Convention.
Franchise Foundry is heading to the MGM Grand Hotel and Casino, the host site of the IFA Annual Convention, the premier franchising event of the year, to build on the momentum established during the company's recent intimate involvement with the Franchise Expo South. In order to do so, Foundry is heading to the convention with the following goals:

Interact with dozens of emerging franchisors at Franchise Foundry's exhibit hall booth, booth #568, and show them how they can position their brand for sustainable growth.
Expand upon the launch of Foundry's Accelerated Digital Strategies service offering - a service that was recently put on display at the Franchise Expo South where Foundry worked as the official social media partner for MFV Expositions, the show's host.
Share social media and franchise best practices at a series of roundtables and panel discussions. These are as follows:
*Foundry CEO Paul Segreto will be hosting roundtable discussions during the Franchise Relations Summit - 9AM-12PM on Monday, February 16.
*Foundry President Deb Evans will be leading a panel discussion during the "Think Big: Creative Social Media Campaigns" Concurrent Session - 2:45PM - 4:15PM on Monday, February 16.
Connect Smart Drinks and Nutrition and MaxOut Strength Studios executives, Franchise Foundry clients who are attending the show, with strategic partners and key influencers who can improve their approach to franchising.
With these goals in mind, Paul Segreto, Franchise Foundry's CEO, says the convention is poised to be the company's most successful yet.
"The IFA Annual Convention is unlike any other franchise focused trade show in that it presents equal value to franchisors, franchisees, and suppliers," says Segreto. "So, there isn't an event more important to us at Franchise Foundry considering we are a supplier who acts as the franchise development team for more than a dozen emerging franchise brands. We are heading to the IFA Annual Convention eager to share our unique expertise and some key best practices with the thousands of attendees who are just as passionate about franchising as we are. Now - let's get to work!"
To learn more about Franchise Foundry and its services, please visit franchisefoundry.com.
To learn more about the IFA's Annual Convention, please visit convention.franchise.org/home.
###
ABOUT FRANCHISE FOUNDRY
Franchise Foundry is a business accelerator focused on emerging franchise brands. Boasting more than 30 years of experience building businesses, Franchise Foundry leadership fully understands the unique challenges that emerging franchisors face in starting, growing or turning around their brands. Utilizing a hybrid coaching/consulting approach, the Foundry team develops and deploys effective short and long-term solutions in franchise management & operations, change management, traditional & digital marketing, relationship & business management technology and domestic & international franchise development.
Franchise Foundry also assists franchise brands in raising capital and exploring merger & acquisition opportunities. The company has an expanding list of client brands across various industry segments, with its primary goal of positioning clients with unique, differentiating propositions to stand out in today's highly competitive business environment.
Franchise Foundry is a true full-service franchise development company. The Franchise Foundry team provides franchise consulting, franchise marketing, franchise technology and other franchise development services to emerging franchisors.
For more information about Franchise Foundry and its company, visit franchisefoundry.com. Keep up with Foundry news by following Foundry on Facebook and Twitter.