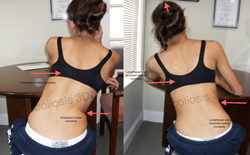 Many practitioners have dismissed exercise for scoliosis for decades, but it is important to differentiate between general exercise and curve-pattern specific scoliosis exercises.
Boston, MA (PRWEB) March 25, 2015
At a juncture where increasing numbers of patients and parents are choosing conservative treatment for adolescent idiopathic scoliosis (AIS), many people still have misconceptions about nonsurgical treatment options. Dr. Marc Moramarco, U.S. Schroth Method Expert, gives advice to adults living with scoliosis and parents of kids diagnosed with AIS.
Tip #1) Look to scoliosis-specific exercise as a first line of defense against curve progression.
While many practitioners have dismissed exercise for scoliosis for decades, it is important to differentiate between general exercise and curve-pattern specific scoliosis exercises. Research now validates the effectiveness of Schroth method principles for halted or potentially reduced curvature (Weiss 2003, Otman 2005, Lee 2014). It can also contribute to improved vital capacity and chest expansion (Weiss 1991). In addition, self-correction (Fusco 2011, Monticone 2014) and side-shift (Maruyama 2003, Weiss 2010) have been deemed effective for scoliosis management.
Tip #2) "Watching and waiting" upon diagnosis of mild adolescent idiopathic scoliosis may leave a child vulnerable for curve progression.
The notion that mild scoliosis does not require treatment is one of the most potentially harmful recommendations parents get when their child is first diagnosed. This is especially true when a child has a large amount of growth remaining. Although not everyone with scoliosis will progress, parents should know there is a viable, proactive option to decrease the likelihood of curve progression and manage scoliosis for life. Specialized instruction offers education and the skills needed to counteract the spinal curves of scoliosis in order to stabilize the spine.
The benefits of taking a proactive approach during the mild phase means that the techniques needed to fight scoliosis are integrated as soon as possible. Eventually, lifetime exercises may not be necessary at all. This is because a popular study on scoliosis concluded that curves at a 30º Cobb angle, or less, at the conclusion of growth, rarely progress during adulthood (Weinstein 2003).
On the other hand, 'watching and waiting' may lead to progression, bracing, and for some – spinal fusion surgery. With the right approach, at risk adolescents with mild scoliosis who consistently adhere to an individualized program learn how to create spinal stabilization. Those opting for observation alone may be at risk of progression and narrow the window of opportunity for stabilization, or potentially improving scoliosis, prior to the conclusion of growth.
Tip #3) Find an effective conservative program that is easy to learn and educates and empowers the patient.
Scoliosis management takes effort, but an updated Schroth-based outpatient back school – Schroth Best Practice® – offers a simpler learning experience for patients to acquire the skills needed to combat progression. This can be completed in a few days to one week, depending on curve severity, because immersion learning is efficient. For growing adolescents, this method of learning offers benefits when compared to instruction occurring over a prolonged span of time. When begun after a mild diagnosis, an immersion program allows the adolescent to learn and incorporate the skills before an impending growth spurt (when scoliosis is at the highest risk of progression). In addition, some traditional Schroth method props have been eliminated, resulting in shorter set-up times for ease of practice – anywhere. Since exercise for scoliosis is simplified, practice is less of a burden for patients which may result in improved compliance for greater success.
Tip #4) Do not be discouraged if bracing is recommended as it has been proven to be effective.
It is not easy for an adolescent to wear a back brace for scoliosis, especially from a psychological standpoint. However, sometimes bracing is unavoidable for those at high risk of progression and can provide scoliosis patients the best defense against scoliosis during the growth years (Weinstein et al. 2013). Although it takes time to adjust to brace wear, it is crucial that patients comply with their doctor's recommendations in order to achieve the best possible outcome.
Dr. Hans-Rudolf Weiss has considered the most common objections of brace wear and with his years of scoliosis expertise has created a more wearable scoliosis brace – the Cheneau-Gensingen. This brace is lightweight, aims to use less material, closes in front, and has openings for expansion at the concavities for rotational breathing (making it Schroth compatible) instead of being an all-around compression brace. Dr. Marc Moramarco provides this innovative brace in the U.S. and while he may be stating the obvious, it bears mentioning, "If a scoliosis brace is not tolerable, kids will not wear it."
Tip #5) Be aware that other options now exist for scoliosis at the threshold for surgery (45°-55°).
While some doctors say that braces are ineffective for those with severe scoliosis, this is no longer true. The Cheneau-Gensingen is designed via CAD/CAM according to individual curve pattern for a highly effective fit (even with Cobb angles of 60°+). The Gensingen brace is the first scoliosis brace to offer growing adolescents with severe scoliosis the opportunity for bracing and improving back shape without surgery. The goal of this brace, unlike others, is not just to halt scoliosis progression, but also to improve curvature and create a more symmetrical trunk appearance when fit before a growth spurt. Contributing to its effectiveness are openings for corrective breathing – making each breath a Schroth corrective breath. When coupled with Schroth exercises, Gensingen bracing can offer scoliosis patients the potential for a highly effective outcome – without surgery.
Lastly, it is important to note that are no guarantees or quick, easy fixes for scoliosis. Scoliosis is a life-long condition that requires active management. Avoid any programs that 'guarantee' Cobb angle improvement.