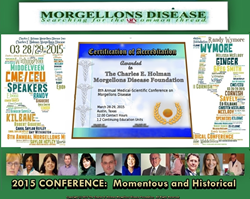 ...Some focus on unusual symptoms. Peer-reviewed journal(s) & soon to be published OSU-CHS research show bacterial infection in Morgellons...
Austin, TX (PRWEB) April 12, 2015
The Charles E. Holman Morgellons Disease Foundation (CEHMDF), a non-profit advocacy group for those suffering from the medical condition Morgellons Disease (MD), brought in attendees from the around the globe including researchers, medical professionals and patients for the 2015 conference titled "Searching for the Uncommon Thread." The Scientific event, which took place March 28 & 29, was a formed to discuss new research to help understand the condition.
Morgellons Disease is a multi-system illness uniquely characterized by the formation of unusual colored fibers within the skin. It is a debilitating condition that often includes slow-healing skin lesions, overwhelming fatigue, GI disturbances and an array of neurological deficits. MD affects people of all ages, gender and ethnic groups worldwide. (1)
Each year since 2008, the Holman Foundation has sponsored this medical-scientific conference in Austin, TX to provide research scientists throughout the world a venue to share their work on Morgellons Disease. Patients and medical professionals attending were able to gain knowledge and ask questions during open discussion/Q & A sessions as well as engage researchers. This year, the foundation partnered with Corexcel to offer continuing education credit for physicians, nurses and other medical professionals seeking to learn more about the disease. "Being able to offer continuing medical education credits for medical professionals has been something our foundation has wanted for years. Accreditation of the CEHMDF Morgellons Medical Conference raised the bar to ensure the professionalism that any such medical conference would be expected to deliver," said Cindy-Casey- Holman, RN, Dir. of the Holman foundation. "As we learn more about Morgellons disease being associated with Borrelia spirochetes (which cause Lyme disease) and not the psychiatric or delusional etiology inaccurately promoted by the CDC, it is a priority that the annual conference be promoted and publicized to the medical communities. There is far too much evidence to overlook and the conference is the ideal format for this learning to begin," she concluded. (3) (4)
The eagerly anticipated results from just published (Feb 12, 2015) #Morgellons research and much more were discussed during the 2 -day event. Researchers from two esteemed universities, Oklahoma State University-Center for Health Sciences and the University of New Haven in West Haven, CT as well as an international team of independent researchers delivered powerful presentations throughout the weekend. The scientists and medical professionals delivered profound and compelling presentations confirming the presence of the human pathogens Borrelia, Helicobacter and Bartonella in MD patients' skin samples which were absent in the control samples. These findings contribute to the strong body of evidence supporting Morgellons Disease has an infectious etiology. (2)
Conference speakers included Randy S. Wymore, Ph.D., Director of Research at OSU-CHS-CIMD (Center for the Investigation of Morgellons Disease) and research assistant, Carol Saylor-Hefley; Marianne Middelveen, an Independent Researcher from Calgary, Alberta, Canada; and Eva Sapi, Ph.D. from the University of New Haven.
Dr. Randy Wymore offered some candid, but prophetic comments concerning the media blitz about a possible connection of Morgellons disease to Joni Mitchell's recent hospitalization: "Unfortunately, some media choose to focus on only the unusual Morgellons symptoms. Facts (research) in peer-reviewed journal papers and soon to be published results from OSU-CHS clearly show a bacterial infection in Morgellons patients."
Ginger Savely, DNP provided attendees with a historical review of MD and discussion on diagnosis and treatment; Dr Eboni Cornish enlightened those at the conference with in-depth presentations surrounding medical management; Melissa McElroy, NP from San Francisco presented a classification system developed for MD. These knowledgeable medical providers, who are closely involved with the condition, provided a medical framework to help validate and standardize the diagnosis of Morgellons disease. Robert Giguere from GeneX Lab contributed exceptional insights concerning detection of the pathogen, Borrelia burgdorferi. The well-respected reference laboratory specializing in state-of-the-art clinical and research testing for Lyme disease and associated tick-borne diseases, is now also focusing on Morgellons disease.
Finally, the psychological toll caused by MD was addressed by Stanford/Case Western Psychiatrist, Dr. Edward Kilbane and retired Georgia Pediatrician Dr. Greg Smith. "It is quite unfortunate Morgellons Disease has been associated with the psychiatric disorder Delusions of Parasitosis. Indeed, they are distinct entities," said Dr. Smith, CEHMDF Assoc. Dir. "It is sad that, rather than approaching this disorder as something a bit different, it immediately was placed in the delusional spectrum. The serious systemic symptoms were dismissed as well," concluded Dr. Smith.
About The Charles E. Holman Morgellons Disease Foundation...
The Charles E. Holman Morgellons Disease Foundation is a 501©3 nonprofit committed to advocacy and philanthropy in the battle against MD. An all-volunteer organization based in Austin, TX, the Holman foundation is the singularly recognized authority on Morgellons disease and stands alone in funding scientific research of this condition. Executive Director Cindy Casey-Holman, RN leads the foundation, named for Charles E. Holman, a pioneer in the fight against MD. Currently, there exist neither grants, nor any other public or private funding sources to support research for this disease. Event proceeds will be used to further this research, education and awareness. All donations are tax deductible. To learn more about Morgellons disease go to MorgellonsDisease.org . The conference was recorded for educational purposes. DVDs will be available soon through the foundation's website.
References:
1. Savely VR, Stricker RB. Morgellons disease: analysis of a population with clinically confirmed microscopic subcutaneous fibers of unknown etiology. Clin Cosmet Investig Dermatol. 2010;3:67–78.
2. Middelveen et al. BMC Dermatology (2015) 15:1 DOI 10.1186/s12895-015-0023-0 http://www.biomedcentral.com/content/pdf/s12895-015-0023-0.pdf
3. http://www.prweb.com/releases/2015/04/prweb12636066.htm
4. http://www.cdc.gov,.http://www.cdc.gov/unexplaineddermopathy/docs/external_peer_review.pdf - .N.p., 2015. Web. 7 Apr. 2015.
##