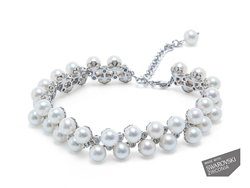 Montreal, Quebec (PRWEB) June 16, 2015
JCK Las Vegas is a leading partner in the jewelry industry that allows jewelry retailers, manufacturers and suppliers across North America to interact and network through its suite of resourceful tools and large-scale events.
This year's edition of the JCK Las Vegas show took place at the Mandalay Bay Resort and welcomed over 2300 exhibiting brands that displayed loose gems or finished jewelry as well as over 22,000 buyers representing 9,400 stores.
As part of the JCK Talks Series, educational workshops and seminars led by various industry experts were offered to attendees with the aim of introducing innovative ideas and inventions that are changing the jewelry landscape and that continually inspire Nishi Pearls every year they attend. These lectures comprised of diverse topics that ranged from the retail business, the power of blogging and the popularity of coloured gemstones, to name a few. "The Power of Blogging" talk featured several established jewelry bloggers who took the stage. Market analyst, Ben Smithee provided a thought-provoking keynote address on jewelry marketing that had been memorable for many.
Nishi Pearls' attendance and exhibition of their collections at the JCK Las Vegas show this year proved to be a highly successful venture. This year, the Nishi Pearls team featured an educational video in their booth to show visitors informative and engaging videos such as an educational "pearl knowledge" clip that walks viewers through the journey of a pearl. Available to view on their website, this clip reveals the complex process between the early stages of harvesting pearls from their oysters and the subsequent creative process that produces the finished pieces that are embellished by these precious gems.
The recently-launched Bridal Collection, co-branded with Swarovski, definitely captured the attention of several buyers. This comes as no surprise since this elegant collection is made with Swarovski Zirconia stones and Genuine Cultured Freshwater Pearls. These art-deco inspired designs may have opened doors to future collaborations.
Nishi Pearls' newest collection, Blossom, turned out to be highly popular due to the pieces' unique components that lend the collection its romantic appeal. Blossom features pink-tinted Genuine Cultured Freshwater Pearls as well as rose gold-plated sterling silver, combined with rose quartz, amethyst and white topaz stones embellished in earrings and pendants.
Nishi Pearls™ is a brand that specializes in designing and creating a wide range of Genuine Cultured Pearl jewelry that creates the perfect marriage between classic and contemporary. With offices located in Asia, Canada and the U.S.A, Nishi Pearls has been making its mark at some of the most prominent international jewelry fairs including the Jewelers International Showcase, the Orlando Duty Free Show of the Americas and the Jewelers' Circular Keystone's (JCK) annual trade show in Las Vegas, to name a few.
Nishi Pearls' dedication to quality is reflected in its partnerships with leading professionals, including their latest ingredient branding partnership with Swarovski as well as Air Canada's Inflight program. Their award-winning jewelry is inspired by the consumer of today and the fashion of tomorrow.