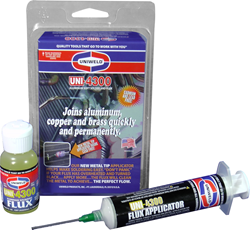 Regardless of which solder or brazing apparatus you are using, it's all about controlling the heat!
Fort Lauderdale, Florida (PRWEB) August 27, 2015
Uniweld Products, Inc. has released an instructional video, available on Uniweld's YouTube Channel, that explains the procedures for making repairs on an aluminum evaporator coil. For a combination of reasons such as cost and greater efficiency, more manufacturers are now building evaporator and condenser coils with aluminum. As more and more of these aluminum coils are introduced to the market, technicians will be faced with the challenge of making aluminum repairs. Working with aluminum is different than working with copper because soldering aluminum is a low temperature process that can potentially cause more problems if executed poorly.
Uniweld Sales Executive, Matt Foster, explains that "Regardless of which solder or brazing apparatus you are using, it's all about controlling the heat!" Whether it's a pitted coil, a leak at a transitional joint, or someone accidentally drove a screw into the coil while putting the panels back on, you'll be prepared with Uniweld's UNI4300 Soft Solder Kit.
The UNI4300 Soft Solder Kit, Uniweld Part# P4KD9S, can be used to join aluminum, as well as dissimilar metals like aluminum to copper, aluminum to brass or copper to brass. It is the best option for aluminum coil repair because it has a low melting point of 500°F and a very high tensile strength of 20,000 pounds. The kit comes with a 10ft coil of soft solder, a 2oz bottle of flux, and a convenient flux applicator with a metal tip. This flux applicator makes it much easier to reach tight spots and the metal tip allows you to apply flux to preheated tubing without melting the tip. The tubing needs to be preheated then the flux can be added. The flux helps clean the surface of the base metal and improves the bond with the solder. When hot enough, the flux will begin to bubble and flash a green color that indicates the solder can be added. If the solder doesn't flow right away or the flux burns and turns brown, more flux can be added using the metal tip flux applicator and the solder with smooth right out. The UNI4300 Soft Solder Kit will give any technician the confidence to tackle those daunting aluminum repair jobs.