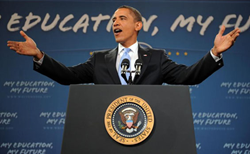 It's time we began to ask if there's a different way of doing things.
Chattanooga, TN (PRWEB) October 16, 2015
Recently, the Obama Administration has put a great emphasis on putting college within every student's reach by lowering tuition costs. Graduating, however, may still be just out of reach for many students. To combat this, the White House is switching its focus from making sure students get the right opportunities to making sure they have the right tools to finish.
No matter how level the financial playing field is, the odds are still stacked against low income and minority students. These students are more likely to drop out because they don't have access to professional tutors, supplemental materials, healthy support systems and other resources middle to upper class students have. When they do start to slip, they are usually less confident in their student-professor relationships and tend not to ask for help.
So, what can be done for these students? That's the question the Obama Administration is responding to, as well as inviting the field's most creative thinkers to respond. The "First in the World" competition is one of the initiatives focused on funding innovative solutions. In addition, the Department of Education's recent launch of the College Scorecard shows students not only the cost of college, but also statistics like graduation rates that can help them weigh their options wisely.
Georgia State University began using analytics three years ago, to help them boost graduation rates. This venture into the world of analytics led them to discover around 800 potential warning signs of students becoming disengaged. Since then, they have hired fifty counselors who respond to these "red flags" and keep students from dropping out.
"Higher education is an institution that is deep in tradition; we're modeling after things that were done back in Oxford and Cambridge," Georgia State Vice President of Enrollment Management and Student Success Timothy Renick said. "It's time we began to ask if there's a different way of doing things."
The field of behavioral analytics has one promising solution that is already available. StREAM Student Success System uses a university's real time data to help students understand in simple terms whether they are on the path to success or failure. StREAM tracks students' digital footprint, finds patterns in behavior, and benchmarks "average" student experiences by class and major. This allows both the student and their counselors to see whether they are on an uphill climb or a downhill spiral, long before it affects their grades.
"Students who come from first generation families to universities sometimes struggle to engage with their [advisors]," Nottingham Trent University's Director of Information Systems Mike Day said. "But even high performance students, we can see sometimes their engagement tailing off, much earlier than we could previously, so we can advise them."
The Department of Education plans to spend $10 million over the next five years to fund research on college completion to tell us what circumstances student success stories have in common. By finding out what good students are doing right, universities can reinforce and encourage those good behaviors. It may come as no surprise that, for a fraction of the amount of money the Department of Education plans to spend, behavioral analytics software can do in 90 days what the government initiative intends to do over the next five years.
To emphasize their commitment to President Obama's efforts in education, many universities have created positions that focus on student success and retention. Most of those universities have purchased or plan to purchase analytics tools to help students and administrators understand success "in their neck of the woods."
Data solutions like StREAM are expected to play a more prominent role in coming initiatives and in the overall push toward improving higher education and student success. Behavioral and predictive analytics are quite possibly the promising future of strong student retention systems.
About InfoSystems, Inc.
Having won numerous awards in Europe, InfoSystems is happy to be the exclusive reseller of the StREAM Student Success System in the United States. InfoSystems serves in the United States and Puerto Rico offering everything from data centric infrastructure to outcome based solutions like Cloud and Prescriptive Analytics. All of InfoSystems' services are backed by certifications in data storage, virtualization, cloud, server infrastructure, backup and disaster recovery, network security, software development, voice service and unified communications.