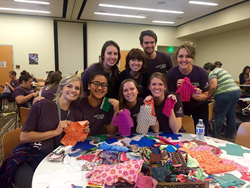 One of the questions in the survey was, 'My job makes me feel like I am part of something meaningful.' This is exactly what doTERRA is striving for.
Pleasant Grove, Utah (PRWEB) November 16, 2015
doTERRA has been awarded a 2015 Top Workplaces honor by The Salt Lake Tribune. The Top Workplaces list is based solely on the results of an employee feedback survey administered by WorkplaceDynamics, LLC, a leading research firm that specializes in organizational health and workplace improvement. Several aspects of workplace culture were measured, including Alignment, Execution, and Connection.
More than 1,300 doTERRA employees were invited to take a 22 question survey, covering everything from satisfaction of health benefits and salary to how appreciated they felt at work. The results of the survey concluded that doTERRA is one of the Top Workplaces in Utah.
"One of the questions in the survey was, 'My job makes me feel like I am part of something meaningful,'" states David Stirling, CEO. "This is exactly what doTERRA is striving for. We are working to improve the health of families through essential oils, to create jobs in developing countries through doTERRA Co-Impact Sourcing™, and to support our employees in making a difference in their communities and all over the world.
"We are committed to providing employees with flexibility, support, and autonomy. We want our employees to feel confident about their future with doTERRA and know they are valued."
Top Workplaces was created by WorkplaceDynamics in 2006. WorkplaceDynamics wanted to recognize the very best organizations through Top Workplaces lists, and, by championing good practices, inspire more companies to work better.
"The Top Workplaces award is not a popularity contest. Oftentimes, people assume it's all about fancy perks and benefits," said Doug Claffey, CEO of WorkplaceDynamics. "But to be a Top Workplace, organizations must meet our strict standards for organizational health. Who better to ask about work life than the people who live the culture every day—the employees.
"Time and time again, our research has proven that what's most important to employees is a strong belief in where the organization is headed, how it's going to get there, and the feeling that everyone is in it together," Claffey added. "Without this sense of connection, an organization doesn't have a shot at being named a Top Workplace."
doTERRA has received a number of awards this year in addition to the Top Workplaces Award, including Utah Best of State, the Pleasant Grove Mayor's Award, and Business of the Year by Utah Valley BusinessQ.
About doTERRA
dōTERRA® produces and distributes exceptionally high quality CPTG Certified Pure Therapeutic Grade® essential oils through more than 1.5 million independent distributors, also known as Wellness Advocates, around the world. dōTERRA Co-Impact Sourcing™ provides local growers and distillers fair compensation for their efforts to create stronger local economies and a healthier, stable supply chain. In addition to a premium line of essential oils used by individuals and health-care professionals alike, the company also offers products that are naturally safe, purely effective, and infused with CPTG essential oils, including personal care and spa products, nutritional supplements, and healthy living products.