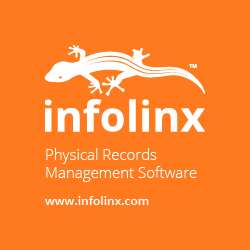 Kensington, MD (PRWEB) December 03, 2015
Today, Infolinx System Solutions, a leading provider of enterprise physical records management software, announced they would be exhibiting at the Empower 2016 Conference. It's the largest Laserfiche training event of the year offering hands-on product instruction and presentations by ECM experts and many opportunities to network with thousands of Laserfiche community members.
Infolinx System Solutions continues its working partnership with Laserfiche, providing a unified physical and electronic corporate records solution. Scheduled January 11-14, 2016 at the Long Beach Convention and Entertainment Center in California, the premier educational event is packed full of valuable information and best practices with more than 200 presentations, labs and social event. Infolinx will be showcasing integrated Laserfiche solutions providing enterprise-class records management capabilities for joint clients.
Read more about a recent implementation including an interface with Laserfiche's Enterprise Content Management Software. Click Here.
About Infolinx®
Infolinx System Solutions is a leading provider of DoD5015.2-certified enterprise physical records management software. Full life-cycle records management for archives, records centers, and file rooms includes integrated Enterprise Content Management, third-party warehouse integration, robust searching, online requesting, complete audit history, location reconciliation, supply item ordering, retention schedule and legal holds management, integrated RFID technology, space management with charge-back functionality, extensive reporting capability, advanced security configuration, workflow email notifications, and legacy data sharing. Available as an on-premises or cloud-based solution, Infolinx maintains clients within all major business segments and the public sector. Infolinx System Solutions Demo.