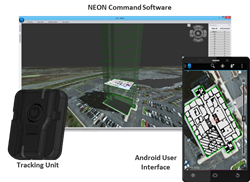 Personnel Tracker detects and maps building features and locates users in areas where they would otherwise be untrackable.
Greenbelt, Maryland (PRWEB) December 21, 2015
TRX Systems, developer of the NEON Indoor Location Solution, is introducing its new NEON Personnel Tracker application at the Consumer Electronics Show in Las Vegas, January 6-9. The TRX booth will be located at the Tech West Sands Expo on Level 1, Hall G, Booth 80348. Requests for meetings and scheduled demonstrations of the new app can be made by contacting TRX at info@trxsystems.com.
NEON Personnel Tracker enables users to be located in both 2D and 3D. The app locates and tracks personnel in areas without GPS including inside buildings, outdoors in urban canyons and underground. A small wearable accessory pairs with standard mobile devices using Bluetooth, enabling ubiquitous indoor location and tracking.
Personnel Tracker's highly accurate tracking and mapping is accomplished using NEON's patented algorithms, which combine data from all available sensors including inertial, magnetic, pressure, light, Bluetooth, Wi-Fi and any available GPS signals to calculate location. TRX's FeatureSLAM™ 3D mapping technology is used to deliver accurate location without extensive installed infrastructure or extensive site mapping.
NEON Personnel Tracker represents the first commercial application of FeatureSLAM, which locates and detects features as personnel are tracked and fuses them together to form accurate indoor navigation maps. Comprised of collections of geo-referenced building features, these maps deliver critical corrections to inertial drift, magnetic interference and other errors that can degrade sensor information and negatively impact location accuracy over time. FeatureSLAM was developed by TRX with support from the National Science Foundation.
"Personnel Tracker detects and maps building features and locates users in areas where they would otherwise be untrackable." says Dr. Carole Teolis, Chief Technology Officer of TRX. "Integration of the crowdsourced FeatureSLAM capability combined with our time-tested and patented NEON navigation technology makes that possible."
About TRX
TRX Systems is the developer of the NEON® Indoor Location Solution, delivering location and mapping indoors, underground and in dense urban areas where GPS is not available or is unreliable. NEON delivers ubiquitous, low-cost, 3D indoor location through the use of advanced sensor fusion, ranging, and patented dynamic mapping algorithms.
TRX Systems is the recipient of the 2015 Silver Edison Award for innovation in the Navigation and Robotics category, the Tibbetts Award given by the U.S. Small Business Administration for innovation and economic impact of research and development, the TEDCO ICE Award for Corporate Excellence and the Innovator Award from the Chesapeake Regional Tech Counsel (CRTC). TRX's indoor location software development has been supported by the National Science Foundation, the Defense Advanced Research Projects Agency (DARPA), the U.S. Army and the Department of Homeland Security.
For more information, visit http://www.trxsystems.com.