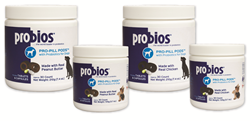 Probios Pro-Pill Pods can be shaped around a pill to mask unsavory flavors and odor, making the process of giving medication hassle-free. Plus, they contain probiotics to support digestion!
Menomonie, Wis. (PRWEB) July 14, 2015
New from Vets Plus, Inc., Probios® Pro-Pill Pods™ provide a convenient, simple way to give medication to dogs. These unique pods can be shaped around a pill to mask unsavory flavors and odor, making the process of giving a pill hassle-free. Plus, they contain probiotics so dogs get the added benefit of good bacteria for digestion and appetite.
Regular pilling is unpleasant and many pet parents are seeking ways to make the interaction less stressful and easier for their pet. Vijay Sasi, DVM, director of technical services and export business at Vets Plus, said many veterinarians recommend wrapping pills in a more palatable food for better compliance. He said, "Wrapping the pill can help hide the taste so that the dog doesn't just spit it out. Pro-Pill Pods™ are ideal for dogs who are being treated for chronic conditions, like arthritis or dermatitis, which require daily pilling for an extended period of time." Available in two tasty flavors—peanut butter or chicken—Pro-Pill Pods™ have shown 95% palatability in testing. Dogs love these flavors and will look forward to eating the pod like a treat.
Like the rest of the Probios® line, Pro-Pill Pods™ contain live beneficial bacteria to support healthy appetite, digestion, and nutrient absorption. Dr. Sasi said, "Maintaining healthy gut microflora can be challenging through illness and recovery—especially if the animal is on antibiotics. Probiotics can help restore the balance." A balanced gut helps maintain a normal appetite and supports the animal's overall well-being. Pet parents can give a pill and probiotic all at once with Pro-Pill Pods™.
Pro-Pill Pods™ contain no added sugars, no corn and no artificial colors. The pods, which are naturally flavored with real chicken and peanut butter, are available in two sizes that fit most capsules and tablets. Pro-Pill Pods™ join the Probios line along with five soft chews containing yogurt and probiotics and dental sticks which were announced earlier this year.
For more information, visit Vets Plus at SuperZoo booth #23131.
High-resolution images available upon request.
About Vets Plus, Inc.
Vets Plus, Inc. (VPI), located in Menomonie, Wisconsin, is a leading manufacturer of health and nutritional supplements for both food and companion animals. With over 20 years of experience, Vets Plus creates custom formulations for contract manufacturing of innovative probiotic, prebiotic, nutritional, and nutraceutical products in a wide variety of feeding forms. Vets Plus is proud of its continued growth into a leader within the animal health industry and ability to manufacture a wide range of products while maintaining SQF Code 7.2 Level 3, ISO-9001:2008, and NASC certifications. Vets Plus is a member of the National Animal Supplement Council (NASC), American Pet Products Association (APPA) and American Feed Industry Association (AFIA).
###